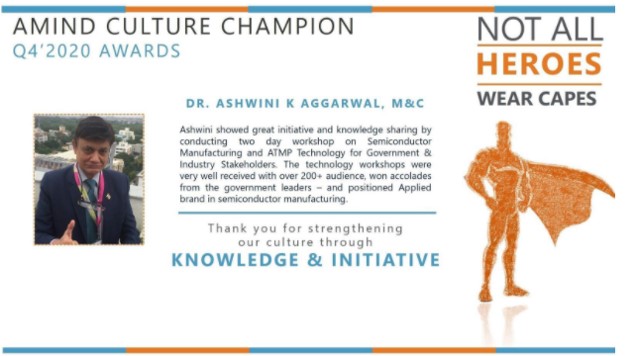 Proud to be acknowledged by my corporation for my initiative in organizing the technical workshops on Semiconductor and ATMP manufacturing for the Indian stakeholders.
Applied Materials has a very clearly articulated value system – we lead with winning teams that operate with integrity and trust, delivering world-class performance for our customers as their most valued partners.  Knowledge and Initiative are some of the values that we focused on in our culture champion program…The company has a very extensive continuous learning program for its staff, huge technical resources and a highly collegian, learning environment that brings out the best in the individual.
What happens when this quest for knowledge and innovation is scaled across the entire organization, individual by individual?
Something magical happens – that changes the individual – and thru him the organization!
It does not stop with the organization – it is a change which permeates across the individual's personal circle. His or her family is positively impacted as well thru the upliftment of the values!
You may also want to browse thru my posts and download the slide decks on:
2.  Semiconductor Manufacturing- A primer
I hope to follow thru with a primer workshop on the Wide-band gap semiconductors and ,if you wish to keep updated on future posts, just fill out the subscribe button at the bottom of the page or join my linkedin or facebook network!