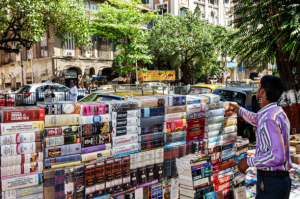 While posted at Uran, my parents used to travel to Mumbai frequently – and on the occasions that I accompanied them, I was rewarded for good behavior by getting something to read – a comic or a book!
It was on these trips that I discovered a whole new world of books – the pavement sellers at Mumbai fort, Colaba – and in different parts of Mumbai!  I remember picking up the choicest Classics Illustrated and Classics Junior comics – and Dell and Goldkey and Disney classics from these visits. My parents encouraged and indulged in my reading whims and my collection grew.  Probably, thought it as an inexpensive and safe way to sedate me – for I would eat my food with a comic in my lap and spend my waking afternoons in the rear room with my comics and books – quietly travelling different worlds and experiencing amazing adventures with Kit Carson and Cheyenne kid – and with Uncle Scrooge and Mickey Mouse – or ….diving into classics like '20,000 leagues under the sea' with Jules Verne!
These picture classics shaped me with an exceptional visualization of the era and the deep quality with which they painted the atmosphere of the story. In a later post, I will build on the significance of this  – but at this point, do note that I was barely 6 years old- and I was devouring the classics of the English literature – albeit in a visual form!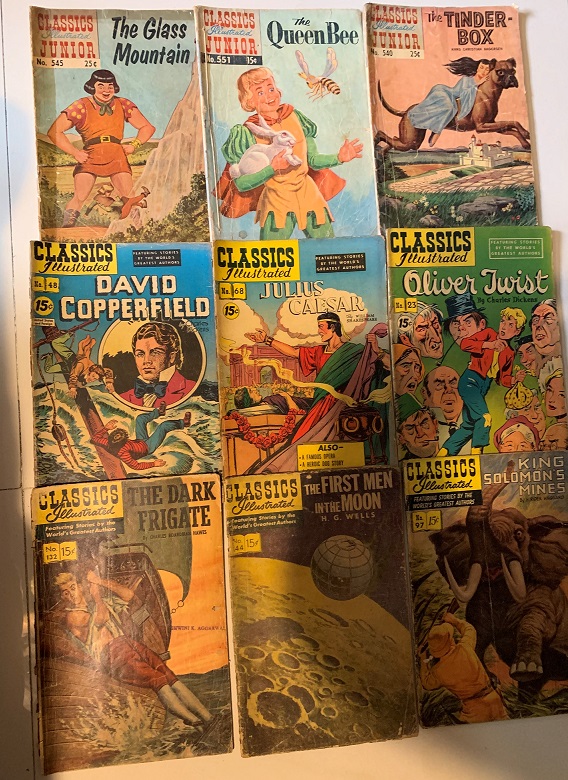 Even today – I will have over 100+ of the Classics Illustrated/Juniors in print form (have the full collection in ebook form) – and I understand that these are a rarity and highly priced. I do believe that my copy of ' The Toilers' is likely priced over $50…though I am not looking at monetizing these personality shaping assets…Classics Illustrated were an American publication that did a wonderful picture adaption of the literary classics between 1941 to 1969( they produced 169 titles) while Classics Illustrated Junior were the comic book adaptions of fairy tales ( 77 titles were produced)!. I am sharing the pictures of some of the comics from my collection – and you can see the difference between the earlier versions (middle row) vs the later versions (last row) of the comics as the artists and covers evolved to a beautiful hand-painted, more realistic style picture story. Also, the earliest prints were having 'Classic Comics' as their cover masthead (have some of those vintage classics as well)!
Fort was – and still is – a veritable treasure trove with the book peddlers offering a vast diversity of subjects. You can still discover a Tolstoy … but classic reading is evolving, and I sadly find many of the books are more of college books up for a 2nd hand sale.  It is highly unlikely that we will discover any comic on sale at the Fort market.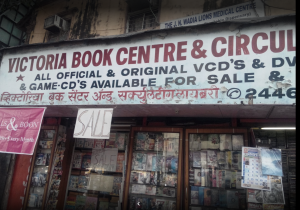 Arif at Victoria Book Centre, Mahim had a lot of old comics when I discovered the shop in my Blue Star era tours to Mumbai.  The comics were not for sale– but we worked out an arrangement where I could take books on loan and return to him when I returned to Bombay over say a quarter or so. He had some old comics that he loaned on the condition that I returned them – and I did – after color copying them to add them to my collection.  Over a period of time, this built a great trust and he shared with me his old comic collection – it was not for sale and I really have pleasant memories of it. He and his father had an exceptional collection and a great reading taste.
Mumbai still has quite a few circulating libraries – and later , when I used to travel to Mumbai, on official work in my mid 40's, I used to drop by into some of these shops to see if I could find any vintage books and comics for my collection. After Mahim, there was a bookshop in the rear of a corner building at the Dadar Crossing – a library near the Bombay Hospital, 2nd hand bookshops in Andheri East and Andheri West…
I used to take evening walks from my hotel to see if there was a good book shop nearby – and, Yes, I added quite a few gems from these shops to my collection. The old-time proprietors had moved on – and the younger generation was no longer having that classic attachment to the old stuff in their shelves, orphans with few takers…
And so – my collection kept on growing to quench my insatiable thirst for reading…
(read previous post here…