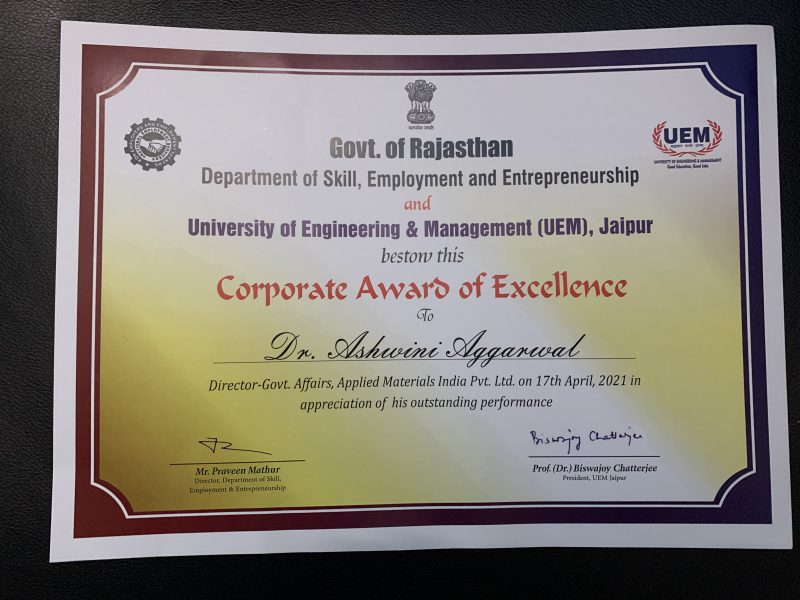 Received an accolade for my work with ESSC from Rajasthan State/ UEM Jaipur.
Building the solar skill standards document along with a charged team at ESSCI and venerable industry committee members had been a passion in end 2019 and hopefully the results will help evolve India's solar skill capabilities at the ground level.
This award is therefore as much for my committee members as for the ESSCI standards group.
Just a thank you on the behalf that entire group,
—
On a related note on unleashing creativity- was privileged to be the Chief Guest at the Valedictory function of Scratch Olympiad 2021. My presentation on 'Kickstarting Innovation' for the younger generation – is shared here.
IESA Kickstarting innovation Scratch
Manav Rachna was the national partner for conducting Scratch Olympiad 2021 competition in India.
The event is happened in various countries and after the national stage the top teams from every country participating in this event will compete in the international stage.
The event website containing the details of the event for India is as follows:
https://creativeprogramming.org/in
Pats on the back are satisfying and encouraging -both while giving and receiving!.
Dr.Ashwini K Aggarwal
Pro-bono Chair, Technical Committee for National Occupation Standards ( Solar/LED)
@ Electronics Sector Skill Council of India