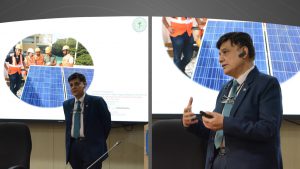 It was a pleasure addressing the next generation of managers at the prestigious NTPC School of Business, NOIDA.  I consciously chose a topic which straddled technology and management – the issue of design for rooftop solar. I built up the story line around the rapidly growing opportunity in the Indian residential rooftop solar market – and the need for a precisely engineered project for elevating effort expectance concerns of a prospective solar user…Design – the ignored element in a jugaad approach -is critical to an efficient, effective, sustainable rooftop solar. And a management student entering the energy sector needs to develop a strong understanding so that he can do a site survey and develop an effective proposal that gives consumer confidence in his capability to execute.
We went thru several examples of different softwares ( covered PV Syst and Helioscope) and share how the near-and-far shading analysis actually restricted the available real space for solar deployment. Sample project reports and feasibility analysis topped the basic introduction.
I was pleasantly surprised by the intelligent questions asked by the students covering a range of industry issues. We covered comparisons between Mono-and PolySi Panels, industry road map for solar and the missing manufacturing piece in the Indian Solar landscape. Fortuitously, the oft-delayed SECI tender for manufacturing linked demand commit was finally opened yesterday – and received a strong response with Adani Solar bidding for 1GW mfg capacity ilo 5GW demand commit; Azure and Navyug Solar both bid for additional 2.5GW of demand with 0.5 GW manufacturing.
I do suspect that we are at a turning point – hope to see Indian solar manufacturing become a reality…
Download  my presentation here: