200 LPD Solar Water Heater System, 36 ETC tubes w/o Electric backup at 541/9 Faridabad.
Make: Sudarshan Saur Shakti Pvt Ltd, Aurangabad.
Driven by a will to contribute to a green world, and by a need in a perpetually energy-deficient state, I installed my first 200 LPD SWHS at my 1000 sq yard home in Faridabad.
There were a number of concerns that the family had when I was putting it up:
– it will never work!
– the expense is too high!!!
– I do not want any work in 'my' bathroom
– it won't work in the winters!
…and so on!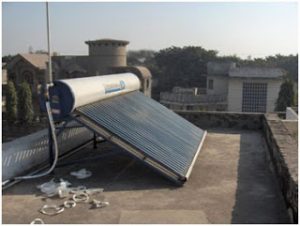 A year on, we have crossed the early adptor's pinch.
– yes, the system works. When October had this usual nip in the air, the SWHS was giving me hot water. In fact, we got hot water thru till end December – and only in end Dec- early Jan did we experience the Delhi fog.
– Interestingly, the system gave hot water on the day of the fog. However, it was luke warm the next day …guess I may have lost about 11 days this season on fog count. Otherwise the system worked – and worked beautifully.
– Others who have installed the system with the electric backup would not even face this glitch.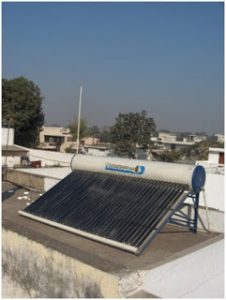 – the expense is not too high finally. A 200 LPD system installed to cover 3-4 points will save approx 12-16k of geyser cost – and the government subsidy of 4000/- per 100 lpd and DHBVN subsidy of 3600/- per 100 lpd combine to give a 15,200/- capital subsidy. I look at the electricity savings (approx 6000/- in my case) as sheer profit!
My take – Solar Water heaters make eminent sense, specially for new buildings where u can plan the installation and piping from day 1. Matter of time before it spreads all around!!!