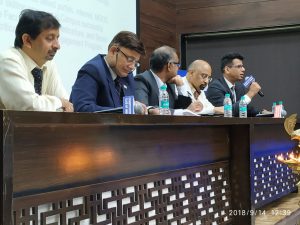 Imagine the task of capacity building for a sector like electronics , for a nation like India with its nascent ecosystem and supply-chains for the sector. Imagine a team that has taken a pan-India challenge, developed a 495 district footprint and has touched over 800,000 students in barely 5 years…and enabled a financially self-sustainable model with fy'18 profitability of Rs.12.5 crores!
Electronics Sector Skill Council for India has a lot to be proud of. Among other things – of its capacity to think differently and take challenges when lesser bodies fall flat in their vision.
When Sampada and Mr Mohapatra called me to join in at the STEP launch program, I was pleasantly surprised at their taking the vision that I had -of building a strong innovation-incubation-acceleration ecosystem into the academic fabric of the nation. I will not repeat the messages again – but if we could provide the right infrastructure and hands-on teaching pedagogy to the emerging engineers, club it with appropriate encouragements and entrepreneurial culture, we could create a powerful startup wave in the country.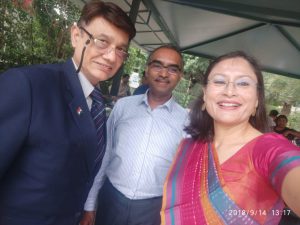 (with Sampada of ESSC at STEP launch 14 Sep 2018)
STEP under the ESSC team leadership has the capacity and opportunity to do just that. As discussed at the launch forum, if we can combine it with program elements that enable industry people taking sabbaticals to contribute to the academic institutes – and industry exposure opportunities for the academia – we could transform the electronics education in India.
The key to enabling electronics education in India is to
build the price-value perceptions of the electronics education ( it should be seen to be giving a higher return than an admin degree)
ease the effort expectance related to the electronics education ( build infrastructure, excite confidence)
enable Performance expectance ( with appropriate hands-on teaching pedagogy and industry linkage)
enable hedonic motivations ( excite, excite, excite…)
Build favorable social beliefs and self-efficacy …and habits…
In essence, we can do it if we can build the appropriate culture and adequate infrastructure…I think ESSC can well prove to be the correct catalyst…