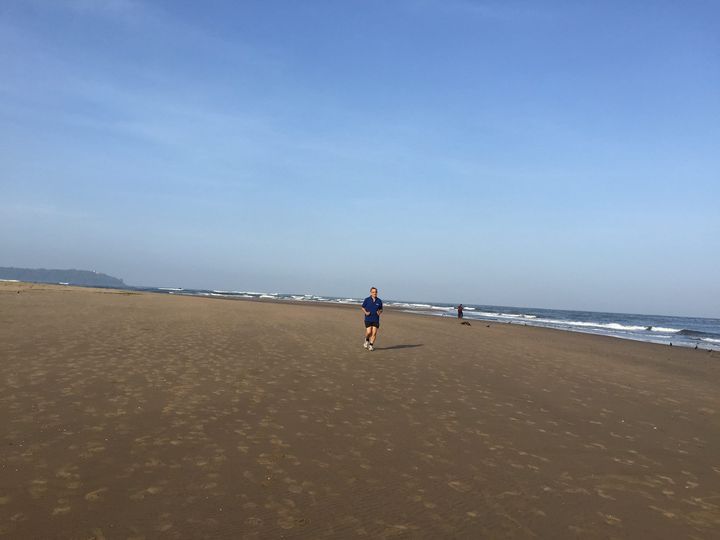 Running on the beach at Goa Sept 2015
In 2013, I dropped my weight from 92.6 kg to 71.4 kg – and kept it at that range(+-2kg) for most of the years till 2019. In Sept 2020, I am weighing 68.4 kg ( my book ideal weight)!
The miracle medicine that I took for dropping the weight was 'running'. The miracle was not that I lost those 20+ Kgs  – the miracle was that I started. Once started, I found running exhilarating -and I kept on running. I ran in the park in our colony, at the lovely town park, at the beaches (on tours to Goa) and in the gym on a tread when I could not run outdoors!
The running moments are my personal moments – the ultimate meditation – I have a set of mantras that I mentally recite as I run outdoors and I see the time, stress and fat melt away. When it rains or in Covid lockdown or on a tour,  I am running on a treadmill – learning about life from YouTube!
It is not easy – it has its pain and demands –  I have had blisters and muscle aches…but it is worth it!
Then in mid 2019, I had the runners' dreaded heel pain!  I had hurt myself and I stopped running thinking it would correct in some time. Every few days, then weeks, then fortnight later – I would think it cured and I would try and run – and it came back. Finally, I consulted an orthopedic doctor who dragonized it as Plantar Fasciitis – and recommended rest, some medicine – and some exercises. My office colleague – and runner- Narayan Joshi- recommended some more foot stretch exercises – and I realized the importance of the pre-run and post-run exercises. And I learnt more about the same on the YouTube and Net.
In Q1 2020, i followed the recovery plan to the book – and then from end March started running again – at home, on a tread as Covid19 lockdown was announced. It started with a simple 30 min/day run goal which I ramped up over the months. The StepSetGo chart below shows my stats for the last week – I did more 100,000 steps ( 111000 steps to be exact!)…and covered over 80 km! More important,  I had gained a few Kgs in weight over the year long hiatus from running. These additional Kgs vanished and , in fact, I am currently at my best weight in the last 20 years -at 68.4 kg. The BMI is well within target range and all body parameters are well-in-control.
It is an exhilarating feeling of achievement – a moment I must share – before I go for my morning run!
What are my running hacks? I used to record my running, weight and diet on a worksheet.  Now, I use StepSetGo and Healthify ( unpaid applications) -and I record my body parameters in an excel logsheet!  (Records are critical – if you can measure it, you can make it happen)!
I have a set of shorts -and T-shirts- for running, Have invested in two pairs of running shoes – one is a marathon runner shoe pair from Decathlon. I normally run a shoe to the ground – but I believe that some of the running problems (Plantar Fasciitis) could well be because of carrying on with a worn-out pair of shoes too long!