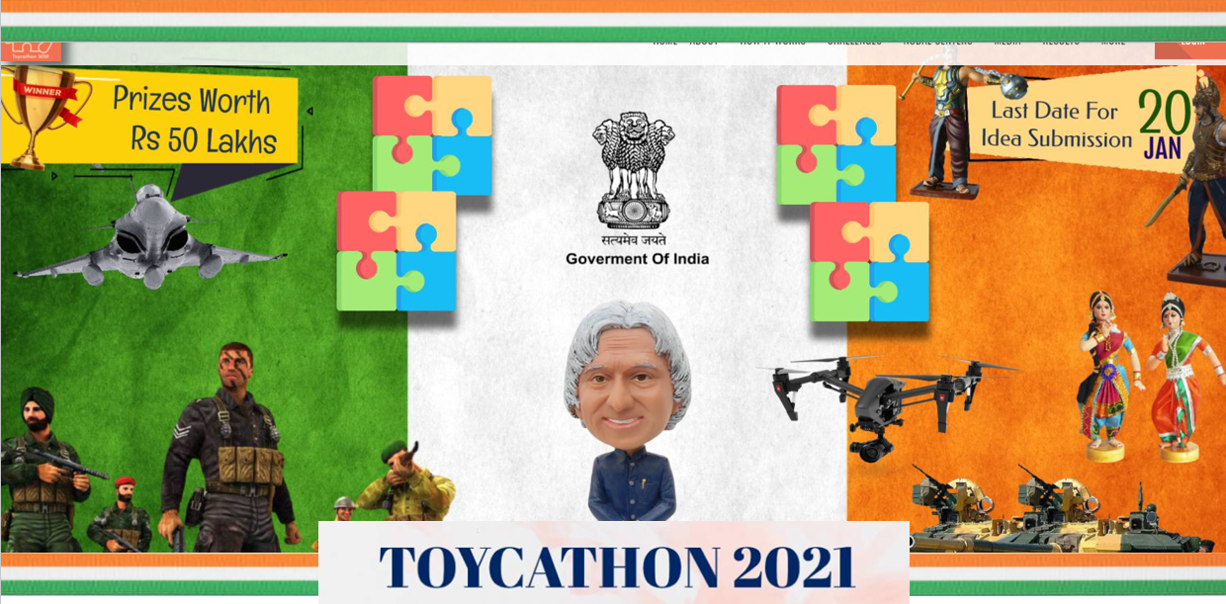 TOYCATHON 2021
TOYCATHON'21, July 22, 2021. Address by Dr.Ashwini K Aggarwal @ Digital Inauguration of TOYCATHON'21
We are all kids – the only difference is the toys that we have! As we get older – the toys get more expensive!!
Whenever I fail as a father or a husband – a toy or a diamond always works!. And this has spawned a huge multi-billion $ toy industry in India.
Unfortunately – it is this industry which has been under attack from the Chinese imports. And it is only in the recent years – Under the initiation of hon'ble Prime Minster, Shri. Narendra Modi's Aatma Nirbhar Bharat Abhiyan, that this industry is reviving with full Indian ethos and values.
What do I mean by appropriate Indian values? I looked at the computer games – which take me to a battlefield and skill me on Kills…and around the toy store where I see shelves full of violent toys…toy guns and swords for recreational slaughter! These toy teach violence and when we teach children that killing is fun, what outcome do we expect ? We need smart toys that teach better things.
Toycathon 2021. – captures the spirit of the Aatma Nirbhar Bharat Abhiyan- and sets a platform for design-to-device-to-a child's delight leveraging Indian values – and Indian technology!
Toycathon 2021 is a joint venture initiative organized among ministries of Education's Innovation Cell with support from All India Council for Technical Education, Ministry of Women and Child Development, Ministry of Commerce and Industry, Ministry of MSME, Ministry of Textiles and Ministry of Information and Broadcasting. This event is being initiated to provoke and channelize India's creative minds to explicate Toys and games which will emphasize on Indian advancement, its history, culture, tradition and ethos.
Manav Rachna has been chosen for this magnificent occasion to be the Nodal Centre for the hosting of digital Edition of Toycathon 2021.
Imagine the creative energy getting unleashed across the 85 participating centers with 567 competing teams!
Toycathon 2021 is a unique opportunity for Students, Teachers, Start-ups and Toy expert/ professionals in our country to come up with innovative ideas and submit these ideas in the form of toys/games. The event will be launched digitally through different Nodal centers from 22-24 June, 2021 and to encourage and appreciate the efforts of the participants there is a winning prize of 50 lakhs which will be announced on 26 June, 2021.
Can the participants of Toycathon 2021 rise to the challenge and deliver:
– Toys that are eco-friendly, indigenous, non-hazardous and recyclable?
– Toys that can be enjoyed by specially abled/ Digyanga children?
– Toys that are gender neutral and teach diversity
– Toys that amplify physical, mental fitness and infuse constructive behavior and good values in the younger generation?
I know you can!
Let us give children toys that are powered by imagination, not by batteries; toys that are made-in-India-by-Indians- not made-for-India-in China.
I welcome all the participants and wish them best of luck.