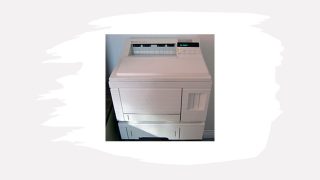 The printer from outer space…
In 1994, HP launched the HP LaserJet 4 – in a typical American style, it was a shot that was heard around the world!
I was a young Market Development Manager at HP India and I looked with excitement at the thrilling launch video that was sent by the global HQ. It brilliantly positioned HP LaserJet 4 as an out-of-the-world product in an unusual, exciting launch theme.  I was exceptionally positioned to understand the significance of HP LaserJet 4 functionalities – I had been the business manager for laser printers at Blue Star Ltd (HP India had spawned from Blue Star Ltd in India in '91-92).  I had negotiated for the LaserMaster 1000 dealership ( a 1000 dpi laser printer for graphics segment) and I had got  the Pacific Page postscript cartridges into India.
HP LaserJet 4 out- positioned them- and all other laser printers in the Indian market! In the months before the HP LaserJet 4 launch, there had been a proliferation of different brands (all positioning at sub HP LaserJet III price as a penetration strategy. Post the HP LaserJet 4 launch – none of these lasted the month!!
Over the next year, HP rapidly moved into the market with its HP LaserJet 4L and HP LaserJet 4P, 4MP – — and the HP LaserJet 4Si printers in a move that straddled critical price points and swept the market!
HP LaserJet 4L had an audio alert if toner was low, or printer cover was open – in its launch we actually had built on the futuristic theme and the printer was teleported into India (straight into a dealer meet!) in a launch vehicle with all its light, sound, smoke and sound effects. And as it unveiled, it spoke to the audience " HELLO, INDIA". The dealer community was floored – and we had successfully created a template of impactful product launches in India that were uniquely superior to the efforts of other companies. We vibrantly introduced our products to an excited and highly motivated sales force of dealers – with breakthru market penetration.
HP LaserJet 4Si , for example, was launched with the focus on the stressed IT Manager who is taken by the spirit of the printer into the inner workings of the printer and shown the intensive firepower and functionalities that gave its edge to the IT manager…
As a HP veteran and alumni – I participated in some of its most iconic product intros – leveraging global creative content and adding local touches – and even creating our own Indian theme launches where required. In this series of posts, I am sharing some of these videos and events from my career journey.
HP LaserJet 4 was a classic, book perfect launch with a uniquely crafted product proposition that out executed, out positioned all competing products and swept HP market shares to a unique all time high of 95% in the year 1994! The product was launched in India with a high-impact out-of-the-world theme that bedazzled the Indian dealer community and as we scaled our feet-on-street across the length and breadth of the country – the competition was ruthlessly decimated. HP LaserJet had always been a strong brand being a price competitive offer vs the Apple Laser printer. However by late '93, there was some competition emerging with Wipro getting in a Ricoh printer, QMS from another local vendor and a few other also-ran brands eyeing the India market for easy picking. 1 month after the HP LaserJet 4 launch – all other brands were swept clear out of the market!
HP had an amazing set of global marketers – they built a suite of vibrant brands that resonated with the markets by building excellent value propositions. The HP vision behind its product roadmaps was unparalleled – and as this 30 year old launch video from 1993 shows – the vision was vivid, futuristic and exciting in its sheer bold, aggressive positions.
Some incidental notes for reference:
The video was shown to over 1200 tier 2 dealers across key cities. In 1994 – that was a huge number. In future, this number would grow to touch approximately 3000+ in each key launch event.
The India launch was executed by Maa Bozell – Shankar Alva and Tagore Berry were the agency leaders on the project.
My future videos will cover HP's vision videos evangelizing our products – from Palmtops to PCs to Printers to Servers…and the stories (there are many) will be put up on my blog and Youtube channel!
You can subscribe to my blog by clicking on the subscribe button below – and to my YouTube channel xlTVinspires by clicking on the red subscribe button-and-bell icon below the video. Do this now for more of these  and for personal development, branding tips – including life skills and technology skills) and to learn how to excel in life from real life inspirations…and I look forward to connecting with the next post!