WHAT US CHIPS ACT MEANS FOR INDIA…
USA President Biden signed off the US CHIPS Act on Aug 9,22- committing USA to a historic realignment of its semiconductor destiny thru policy and program funds. The genesis of this move has been:
The polarization of semiconductor industry into Taiwan

and the resulting US-China geo-politics with Taiwan.
Covid 19 brought home the reality of the global dependence on semiconductors and

the fragility of the supply-chain that disrupted downstream industries

('for want of a chip, a ship was lost…"). Of course, Covid 19 escalated the issue, but the disaster was in making for some years with a series of black swan events hitting the industry starting with
o Buy-USA policies in the Trump era
o Natural calamities like drought impeding production in Taiwan
o Industrial accidents in different context, different sites across geographies
o And more recent the War-in-Europe!
Over the years, the US semiconductor market has seen silicon shift out of the Silicon Valley which retained its fabless companies, but semiconductor manufacturing industries migrated to other parts of the world with economies of scale, efficient supply-chain ecosystems and better government incentives.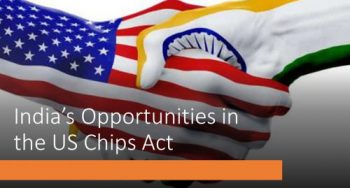 US CHIPS Act aims at redefining the semiconductor industry and get the semiconductor manufacturing back to USA. This has several opportunities for India as it builds a mission mode approach to its own semiconductor industry/ semiconductor ecosystem. Specifically, we highlight that:
1. As USA redefines the global supply-chain ecosystem, India has an opportunity to get a share out of the USA fab sourcing by building India's semiconductor supply-chain ecosystem for global execution. Can Indian industry with existing interests in Aluminum, Copper, Zinc…and several other materials of interest for semiconductor industry, move beyond raw material mining and export to creating semiconductor grade products that meet the growing global needs?
Another opportunity is potentially from taking a share from the supply-chain markets in Asia-Pacific as companies restructure their semiconductor manufacturing supply-chain ecosystems.
Careful, focused strategy and selective upgradation of some of our industries can bring these opportunity alive in a manner that meshes with the emerging global and USA demand.
2. There is another opportunity for India. As USA (& Europe) looks at scaling up its semiconductor ecosystem, there is a visible deficit of 300,000 skilled people in the global semiconductor industry. At the same time, there is a visible shift away from STEM focus in the new global generation.
I believe that Indian talent can fill the global workforce gap in high-value manufacturing as well as design with strategic focus, right relationships and planning.
At ESSCI, we are reviewing a stackable skill program that builds on the foundational degrees in mechanical, electrical, electronics and materials/chemical engineering. By coupling it with global branded programs from SEMI and leveraging our own academic pool, it is practical to create a strong India branded semiconductor skilled force that can serve Indian as well as the global demand.
We are working with industry associations and MEITY to build a framework of talent management pipeline and skills – not just for design – but for semiconductor manufacturing as well.
3.The semiconductor demand is fundamentally very strong over this decade. It took last several decades for the industry to touch $500 bln but it is projected that the industry will double by end 2030 to $1 trillion. This will be driven by the explosion of data, internet of things, new downstream consuming sectors like the auto sector, life-sciences …and more. Hopefully, India Semiconductor Mission will define its target niches and select a strategic path with viable combinations of sustainable geometries, integration strategies and go-to-market programs.
What are these target niches that I am referring to? A separate post will develop the thoughts – but, essentially, these will likely be select chip sets that will be relevant to our health security (life science); fintech; select strategic sector chips.
Going forward Semiconductor industry is going to see proliferation of products across different node geometries, advanced semiconductor packaging, leveraged heterogenous integration combining dies with different materials, different functionalities and even from different fab origins in a SiP. As terminologies dominate technologies, there will be ample opportunity for India to work with trusted relationships in USA to build its own semiconductor sectors.
4. USA is traditionally a  high-cost economy. While it will likely capture the higher value segments in the semiconductor manufacturing, USA will seek cost efficient supply-chain, trusted manufacturing partnerships &  skilled manpower for its manufacturing program. 
India has evolved from the early 21st century. The New India landscape is increasingly innovation intensive and we have a proven track record as a software contract engineering services center. We have a major opportunity to leverage our position in the value chain and evolve as a trusted, cost-effective contract innovation (R&D and Engineering) partner!
The US CHIPS act underscores the need for building trusted relationships to enable India in the new, emerging semiconductor landscape. US and the global industry will need an agile workforce, efficient, cost-effective supply-chains as alternative to existing options.  India needs to move fast to capture the opportunity that this new world order in semiconductor is creating. In the end, strategy combined with strategic relationships and execution will be the key to success.
For details of the US CHIPS program investment split – click here.
A future post will deep dive in the India Semiconductor Mission.