I remember first reading 'The Count of Monte Cristo' as a Classics Illustrated Comic in 1965 at Uran. It had a beautiful hand-painted cover that showed Edmond Dantes, the sailor, reveling in the treasure of Monte Cristo!. I still have that old comic though in less than perfect condition. However, over the years as I went thru life and built my collection – I did acquire the original classic comic below!
George Dolenz (and Nick Cravat) starred in the 1964 TV series adaption of 'The Count of Monte Cristo'. George Dolenz did an outstanding job as the Count of Monte Cristo- and I remember seeing the series once every week in my rare visits to Delhi (TV was a rare luxury limited to favored few cities in the late 60s!). George Dolenz became the defining 'Count of Monte Cristo' in my memory. I remember watching the 'Return to Chateau D'if  (of Death)' in the 70s – and then again recently when I had the pleasure of discovering the entire series on YouTube! You can access that here:
https://www.youtube.com/playlist?list=PL8AnNIeidFM4xU2tfHmguQMQfdJsuZEmo
This series was more in the nature of continuing adventures of 'The Count of MC'…
There have been other notable treatments of the story over the last several decades.  I have also liked the Alan Badel version -specially its soft ending. The full details of various adaptions here are shared at the Wikipedia post here.
https://en.wikipedia.org/wiki/The_Count_of_Monte_Cristo
Alexander Dumas really made a classic in this story – the genre has been oft repeated over the decades in several stories across several languages ( Hindi version was 'Jeevan Mrityu' starring Dharmender!). A honest and upcoming young man is struck at by jealous and greedy fellow compatriots/ colleagues – and condemned for crimes he has not committed. Destiny conspires to free him and give him the financial power to take his revenge…
There is sheer skill with which Dumas paints the characters and makes us feel the anguish of Edmond Dantes and the seething intensity of the anger and revenge of 'The Count of Monte Cristo'. The story has several deep learnings in it.
There is evil in the world – we cannot ignore it – and we need to confront it when we encounter it. In that moment of truth, it will be our truth and our steel that will enable us to live thru the challenge. But most interesting message that Dumas brings out is in the end – that revenge is not justice; that satisfaction is much more than drawing blood. That blind revenge can result in blood of innocents –  and perhaps that is a cross one may not be able to carry with ease! Forgiving is a powerful action that can relieve the soul of its burden as the quest for revenge! After all, Man cannot play God!
You can view some of the Classics Comics at this site:
A lovely quote by Mirza Ghalib as I close this post…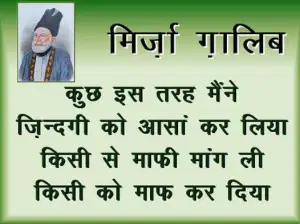 Translation ( Quote / Mirza Ghalib)
Here's how I made my life a little bit simpler
I asked someone for forgiveness, I forgave someonecur
A special thanks to Vineet Abraham – curiously his post on a similar theme came just a a day back!