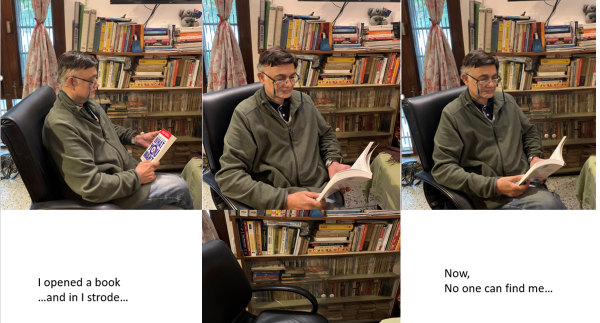 In 81, post retirement, my dad returned to Delhi and we shifted in to the top floor of the Daryagunj house.  One of the highlights of the shift was that I became a regular weekly visitor to the book market on Sundays.
As a National Science Talent Scholar – and a merit holder at Delhi University, I used to get a small scholarship which funded my passion for books. A typical Sunday outing would be to step out by 10am to the market, have a glass of juice near Golcha or a Bhel-puri- as one went around browsing the pavements.
The pleasure of the hunt was in the chase. I still remember the lovely winter months when one was sunning and browsing the books – and discovering a nice title entering into the next exciting exercise – haggling for a price. The pavement sellers were expert – but I honed my skills by locking horns with them. There were times when I walked away, hoping to see the same book the next week and pushing for a better deal. Quite a few times I paid for this fool-hardy act by losing a book – but then I learnt and balanced the seller's price discovery with my eye for a bargain.
And so, my collection grew…
Sharing the 2nd part of Vineeth's post on 'the bazaar'…his journey is so similar to mine…
THE BAZAAR OF DREAMS ( Part 2 ) ..by Vineeth Abraham
As threatened, here's Part 2. You guys are gluttons for punishment , aren't you.
Many of the sellers who sold their books at Daryaganj had warehouses or godowns where they stored their books, while some of them used to store the books in their homes. As I got to know the sellers better I was invited to their godowns and warehouses where they stored their books and comics. Many of these were in Daryaganj itself, which is famous for it's publishing houses and bookstores. I spent several happy hours in these warehouses browsing through stacks and bundles of books. The smell of paper and ink induces a sense of elation in book lovers akin to the 'high' experienced by pot smokers . In a heightened state of bliss induced by the smell of books you would seemingly float through these warehouses , marveling at the wonders revealed when you examined the groaning shelves. Here Karl Marx's ' Das Kapital' would be cheek by jowl with Adolf Hitler's ' Mein Kampf', there a James Bond thriller would be snuggling up against a Denise Robins romance novel or a collection of Christina Rossetti's poems. A number of classic children's books by Richmal Crompton featuring that disreputable scamp William would be leaning insouciantly against a stack of copies of Louisa Alcott's 'Little Women' who'd be trying to pretend they did not know this tousle haired kid at all. Every once in a while you would stumble upon a real gem, a book that you had been searching for for decades and you would feel as though you had attained Nirvana. God was in his heaven, the birds were singing and all was right with the world.
During the early years of my visits to Daryaganj , in the nineties, most of the books that arrived in the market were usually personal collections of some old book lover , cast away by his or her family members once he or she had gone on to the Great Big Library in the Sky. In many cases if you were lucky you would get a whole stack of books by a particular author at one go, books painstakingly collected by some bygone book lover over a period of time. I was lucky to pick up several such collections including 40 odd books each by British thriller writers John Creasy and James Hadley Chase, several books on art collected by some unnamed connoisseur of arts only for them to be discarded by his philistine descendants, a stack of golden age detective fiction including vintage paperbacks by such masters as John Dickson Carr, Rex Stout and Michael Innes , a bunch of vintage Indrajal comics from number 51 to number 80 in very good condition for rupees 5 each and, two of my biggest windfalls, the entire 24 volume set of the Tarzan series by Edgar Rice Burroughs and about 25 mint condition hardcovers from the 1950s, complete with colourful dust jackets, by those beloved children's authors of yore Anthony Buckeridge and Enid Blyton ( for the princely sum of two rupees each ). By the turn of the millennium used books and remaindered books from the UK and USA , shipped to India in containers, started arriving in the market. These were in pristine condition and were sold dirt cheap, paperbacks for a maximum of rupees 20 and hardcovers for upto Rupees 50 each. These were a real bonanza and led to a feeding frenzy among bibliophiles who couldn't believe their luck. Gradually , however, the prices rose as sellers became more aware of the value of the treasures they were piling in heaps and selling like so many potatoes of tomatoes. This period also led to the practice of book sellers selling books by the kilogram, something I have never seen anywhere else.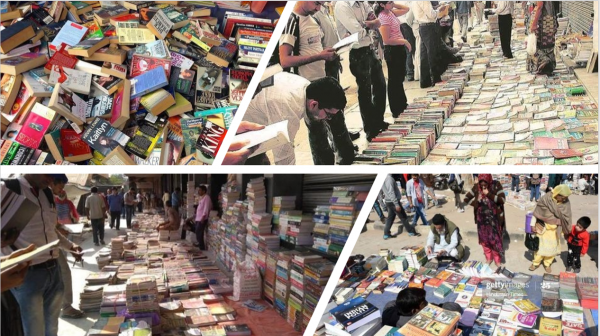 One particular incident that I remember vividly, from this period, is when I was contacted by one of my seller friends in Daryaganj and informed on the phone that he had got a big lot of books from one of these containers and that the books included several vintage British Annuals which I was particularly fond of. He invited me to his home in Daryaganj, in a gali behind the Delite Cinema . The call came to me on a Friday and the next day I hopped onto an auto rickshaw and made a beeline for his place. After entering the narrow gali and finally reaching his house I entered the courtyard and called out his name. He replied from inside the house asking me to enter through the main hallway. On entering the main hall I was brought to a sudden and intemperate stop by the sight of the biggest and most malevolent looking billy goat I have ever seen which was lying just inside the doorway. The goat started to rise to his feet with a fearsome murderous look and I began to entertain doubts as to whether this particular goat was really a herbivore like the rest of his ilk. I started to beat a hasty retreat when my friend emerged from the inside of the house and gave a peremptory order to the goat. The goat immediately sank back on it's haunches and tried to pretend that it was not planning to have me for lunch. I gingerly tiptoed past him and entered the hall where my friend had stacked cartons of books for me to go through. My friend explained that the goat had been bought about four years back as a young lamb to be the main course for the Eid celebratory dinner. However the children of the house grew attached to him and refused to let him be turned into lamb chops and so the lamb had become the family pet and now slept inside the house. I did get a bunch of lovely books that day but was kept on tenterhooks by the presence of the Goat of the Baskervilles. Finally I staggered out with my books, giving the goat a wide berth ( hard to picture he was ever a lamb). The goat had a last, lingering longing look at the seat of my pants . Next time, that look seemed to say . Thankfully I did not have occasion to meet him again which was probably best for my health and the goat's digestion.
Another incident that sticks in the mind was when I paid a visit to Anupam Cinema Complex in Saket in 2015, not to take in a movie but to check out the several pavement bookstalls that dotted the complex. I was peacefully picking through the books on display at one of the stall when I heard a stentorian shout of 'Uncleji ' and a well built young man in his thirties with a handlebar moustache suddenly rushed up to me . I looked around desperately for help , sure that the guy was some escaped lunatic, when he clasped my hands and started a long winded and one sided conversation about how it was decades since he had seen me, how I hadn't changed at all except for becoming old and decrepit and how it was clear that I still retained that crazy urge to buy books. Gradually it became clear that he was the son of one of the booksellers in Daryaganj and I began to faintly recollect a snot nosed kid who used to hang around making a nuisance of himself and hindering book buyers who used to be browsing at his dad's stall. The handlebar moustached goon it appears , was the grown up version of that very same snot nosed kid. Thankful that I was not doomed to a nasty end at the hands of a lunatic , I allowed myself to be inveigled into a roadside teashop where said lunatic bought me tea and samosas and also called up several of his book selling brethren , all of whom appeared to know me from their days as kids accompanying their book seller dads to Daryaganj. The way the guys described me made me feel like a book buying Rip Van Winkle with a long and hoary beard but also brough home to me the fact that I had been haunting the pavement bookstalls of Delhi for over a quarter of a century and had almost become an institution , the crazy old Uncleji who was still buying books and comics instead of doing something worthwhile in life.
No mention of visits to the Daryaganj bazaar would be complete without a mention of the street food you could get there . The place had several small shops and dhabas selling piping hot samosas, kachoris of various sizes, Delhi's very own bread pakoras and also paneer pakoras and paneer bread pakoras. A small south Indian joint near the Daryaganj Police Station and another in the Golcha theatre complex sold fluffy idlis , crisp dosas and sambhar vadas ( or samber veda as Delhiites are wont to pronounce it ). The joint near Golcha Cinema also sold that other Delhi staple chhole bhature , which tasted heavenly while you were eating it and then made you wish you hadn't once it started playing hell with your insides. There were a number of more upmarket restaurants also, including Moti Mahal , Zaika, Delhi 6 and Bhaja Govindam which catered to even the most jaded palate. Many of the people who frequented the market , came here primariliy for the food, with the books as an added bonus. I used to invariably have my breakfast in Daryaganj before settling down to the serious business of searching for books. In my days as a bachelor I used to have my lunch and tea as well , before heading home with both stomach and book bag replete.
I finally left Delhi in 2017 after taking Voluntary Retirement and settled down back home in Kerala. Ninety percent of the luggage I carried home consisted of cartons of books , 138 of them to be precise. The cost would probably have bankrupted me if not for the fact that a grateful Government , grateful that I had decided to quit, reimbursed me my transportation costs. Shifting the cartons to the first floor of my home was another mammoth task and I still recall the agonized looks and hollow groans of the blue clad union workers who I had hired to shift the books upstairs. Many of them were adamant that I was making them haul granite blocks and were amazed that the cartons only contained books. The cartons were somehow delivered unscathed and now my memories of Daryaganj are all in the books that I have now housed in the library.
I can truly say that despite spending almost 29 years in Delhi , the only things I miss about Delhi are the street food, old friends and , most of all, Daryaganj. The market however, is now a shadow of it's former self, relocated from Daryaganj and shifted to Mahila Haat on the pretext of avoiding traffic congestion. The timings of the market have also been reduced. One of the cultural icons of Delhi still lingers on , but reduced to a pauper where it had once been a king. I am glad I am not around to witness this slow and lingering demise. Daryaganj will always be alive in my memories as the mighty monarch it once was, distributing pearls beyond price to its adoring subjects.
My Previous Posts on this reader's journey:
http://india-inspires.com/?p=969      4. I never went to bed alone
http://india-inspires.com/?p=956      3.The Search Engine with a heart
http://india-inspires.com/?p=940      2.Discovering Paradise..the Mumbai book journey
& http://india-inspires.com/?p=923   1.I Changed!
My future Posts :  Return of the Gunfighter; British School Humor-Bunter; The Quest for June & School-friends, Discovering the internet… & How my reading changed me…
Let me know if there is a specific topic you want me to feature / prioritize in the comments below- and subscribe below to get updated on the future posts!