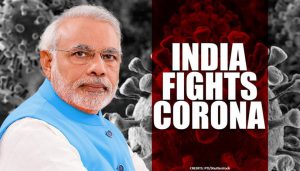 Most of us had not heard of Covid-19 a quarter back! It has made a brutal entry in our vocabulary this year.
As of this evening (29th April 9pm IST), Worldometer records 680, 000 cases worldwide with 33000 deaths! Practically every country in the world is battling to crush this dreaded virus which has ravaged China, USA and Europe.
Numbers in India are low compared to USA and Europe – they have just crossed 1000 – but there is a lot of speculation about the veracity of these numbers. Fact is, our testing rate is too low, our protection shield for detecting incoming virus carriers too shallow and sensitivity of incoming passengers to self-quarantine abysmally low.
I personally believe that the Government has reacted fast – definitely faster than its peer countries. First half March saw practically all the major events get cancelled across the country thanks to the MNC alerts and travel restrictions. Government has moved with absolutely unbelievable speed – the PM addressed the nation on March 20th when the recorded cases were 244 and, called for a "Janta (public curfew) on Sunday 22nd" and converted into a nationwide lockout on 24th.
Researchers have advised that multi-level distancing is critical to remaining safe. That means a full combination of isolating the nation and cities, and stopping public transportation; work distancing (Work-at-home); school closures and social distancing; self-quarantine…
We are now in a state of national emergency – and on a lockout! All flights, all trains, all public transport is grounded – something that has not happened in our lifetime  – and possibly in the history of independent India. We have been advised – and are practicing social distance. There is a strict protocol for getting essential supplies which are available – but in a specified time window and in a strict crowd controlled manner.
The aim is to flatten the peak in this epic battle between the human race and this dreaded virus – it is an invisible enemy that transmits silently in a community.
Even then, I think April 15 is too early to lift these quarantine! I suspect that India will touch the dreaded 1000 mark by 1st April – the start of the hockey curve rise of Covid-19!  I also feel that we may actually witness limited success in flattening the peak by April 15 – however, we will have secondary infected cases in the society that we will need to track and isolate.  I think April is OFF our calendars – but time will tell if it is only that!
We are racing… to buy time to get a vaccine in place (  12-15 months away?)…
Government action is proactive and decisive. Government departments are ramping up healthcare capacity for a projected explosive battle with the virus in April. I attended Government leadership calls where capacities were being ramped up for isolation, quarantine and patient care by a few order of magnitudes. In coordination with industry, manufacturing capacities were being ramped up for ventillators, hand sanitizers, N99 masks, PPE, medicines…and more. Bureaucracy was cleared to review and fast track orders – even if with single bid and time lines to execute are tightly defined.
In the meantime, the best way to fight this virus is to have a behavior change across the society. The 4 tactics are
Self isolation
Social/ physical distancing
Hand-hygiene – wash hands frequently
and Face hygiene – avoid touching face with fingers/unhealthy substrate
The behavior change is not easy! Take a look at me – prepared for an essentials shopping trip to my local store. I am covered from head-to-foot with a cap, specs, N95 mask, gloves, outer jacket. Payment will be done digitally thru Paytm  – no exchange of cash or card! All stocks brought in the house are kept in an incoming supplies container, removed, washed and then moved into the stores. All items that I wore are removed, washed and all items like wallet, phone, key chains are sanitized before moving into the house. The shoes are kept in the sun for 3 days and are not moved into the house ( separate shoes/slippers in house)! All this requires conscious planning and behavior change! The driver is not just personal safety but family safety with 5 family members in risk-category!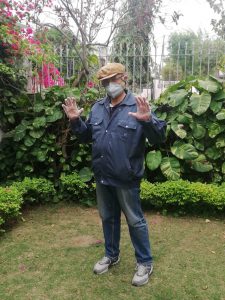 In subsequent notes, I will draw on my research to share the behavioral challenges relating to the Corona Virus- and what we can do about it!
Click this button for basic FAQ – keep smiling with hope and be safe!
Covid FAQ
Lots of resources on Covid 19 on the net. I liked this one:
AIIMS COVID Guidelines
Humanity is at war – and we can contribute to it by being safe, being disciplined!