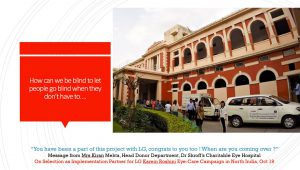 It is 5+ years since I started actively contributing to eye-care; 5 years in which I was transformed as I touched the lives of the poor blind. On the journey, I found wonderful friends and equally committed persons at the 100+ year old Dr Shroff's Charitable Eye Hospital (SCEH)- and spent some personal time trying to get corporate sponsors enabled for them.
It is with considerable satisfaction that I received a message from Mrs Kiran Mehta, head of Donor department at SCEH that LG has signed up as a corporate sponsor for 800 corneal transplants with Dr SCEH. Her message is shared in the image below and reflects her delight as well as a wonderful sense of sharing the success.
UNO has defined a range of sustainable development goals for member countries. Is addressing hunger more important than addressing eye-care/Health goals? It turns out that India has made excellent gains on the hunger front – and really speaking,  the bigger challenge is on the eye-care/health front. Imagine being condemned to a life of blindness because one does not have money for an available cure!  For me the choice is clear, it is relevant to change that one life decisively- to give it a fair opportunity in the society, than to get a momentary satisfaction of feeding a few at the temple langar. Both are God's work – but I find 'my cause' lot more satisfying…even though it is much more challenging.
Earlier this month, Abhijeet Banerjee and Esther Duflo won the Nobel prize for their work in developing randomised control trials – an evolution of experimental economics – to validate what worked in eradicating poverty at grass-root levels. I had read their book "Poor Economics" earlier this year with its profound observations on the need for decisive, 100%committed interventions ilo half-baked actions for eradicating poverty.
It is relevant to understand that many-a-times the poor are constrained from even taking free or subsidized health-care simply because they can't cross the threshold investment of even going for the health-care. I was discussing this with my mentor, Mr Kewal Khanna, ex-HP, and shared that in one case ( Gita-Kusum), I paid even the taxi fare for the mother-patient to come to the hospital for post-operation treatments. This was also the case for Vikram (my first case) who expected that I help with the transport for his operation (later on, as case progressed after first 3 visits, he managed on his own). I know that Banerjee and Duflo got it bang-on right when they observe that the hit rate drops dramatically even at 80% subsidized treatment.
It is not easy – but we have to change our mindset, our policies and our actions to enable that full cure for each task that we take on hand.
The challenge is to commit to that one complete cure, that one light for the blind – and when it happens, the light that fills us, is its own reward.
I applaud LG for taking the lead in its 'Karen Roshini' campaign and taking lead as a corporate sponsor for this noble cause. I really hope that more of us come forward to contribute to this addressable issue.
Click here for the press release:
https://absolutegizmos.com/lg-electronics-india-lights-up-lives-with-the-karein-roshni-initiative/
and enjoy their video here!