It's a new dawn; it's a new day; it's a new life, and we're feeling good…
Legendary singer, Michael Cormick,  set an optimistic, vibrant mood for  SEMICON West 2022 as it came back in full swing after SEMICON West "Lite" in December.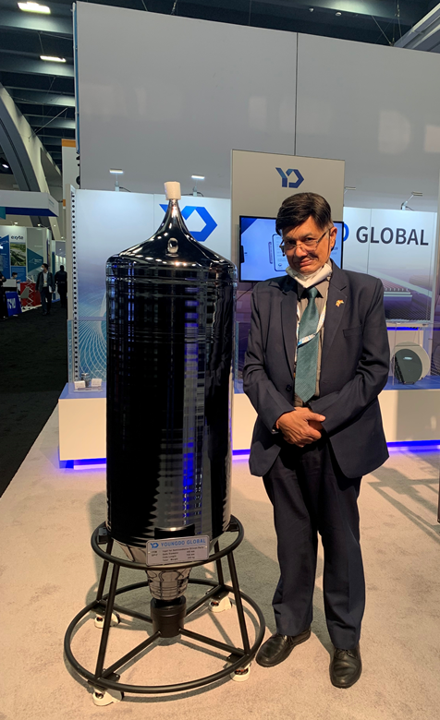 For me, it was a 3-year hiatus as the pandemic of '20 had blanked out travel and more! I have always relished the visionary presentations at SEMICON, interacting at the show floor and collecting the chocolates and titbits at the stalls as I grazed thru SEMICON West!
Western Digital's Dr.Siva Sivaram set the tone for SEMICON West with a vision keynote for a future where data  explosion driven by emotion and human progress was becoming more than oil – it was emerging as the lifeblood, the source of human wisdom. Data storage and advancements in 3D NAND are enabling the data revolution and he emphasized the need to accelerate both data value creation and creating the next paradigms in data storage. It is a global supply-chain that enables the continued ramp up of data storage capacities.  The semiconductor equipment manufacturers have a clear role to innovate at an accelerated pace to sustain the ambitious roadmaps projected for the data storage sectors.
Semiconductors are Serious Business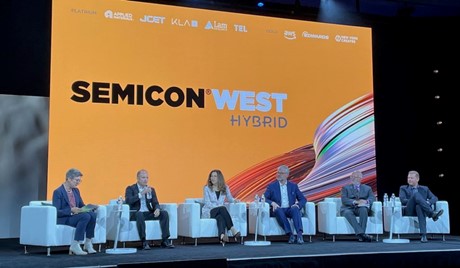 Fig.Building a resilient supply chain panelists included Moderator Bettina Weiss, SEMI; Douglas Lefever, Advantest; Carolin Seward; Google; Richard Barnett, Supplyframe; Bruce J. Tufts, Intel, and Boris Finselberg, DHL Customer Solutions & Innovation.
SEMI CEO , Ajit Manocha,  and Bettina Weiss-Chief of Staff at SEMI, brought out the importance of semiconductors to the world, and not just to power our consumer electronics, smartphones, and gaming devices.  Not only was the COVID 19 Vaccine development relied on supercomputers, but the world also moved to a virtual execution to deny the virus its deadly and explosive penetration into the society.
Bettina Weiss, SEMI Chief of Staff, moderated a keynote panel on building a resilient supply chain. She asked panelists to look forward and share what needs to change for the semiconductor industry to have a more robust and resilient supply chain.
While a lively conversation ensued, It was interesting to see the just-in-case trouncing the just-in-time mindset in the discussions. A dominant theme emerged on the enablers -of the future, more resilient supply-chains: Commitment to environmental social governance (ESG), sustainability, transparency, collaboration, a just-in-case mindset, and trust are all critical to underpinning efficient supply efforts.
Chips Act Update
With SEMI chief, Ajit Manocha ji, at his Las Gatos residence in July'22
Dr Ajit Manocha pointed out how the US government realizes how important semiconductors are to national security, which is why they are establishing new incentives to bolster the domestic supply chain.
Lori E. Lacassio, Under Secretary for NIST, reported that the Chips for America Act was progressing (– and , in fact, was passed recently by the US Congress).  China has invested $15OB in its domestic semiconductor supply chain, the EU has committed $30-50NB in funding, India's weighing at 10-30B, Japan is at 6.8B, and South Korea announced plans to build the largest semiconductor supply chain in the world.
Attached is a rough breakdown of how $52B will be dispersed over the next five years (Figure 2).
Figure 2: Where the CHIPS Act funds will go…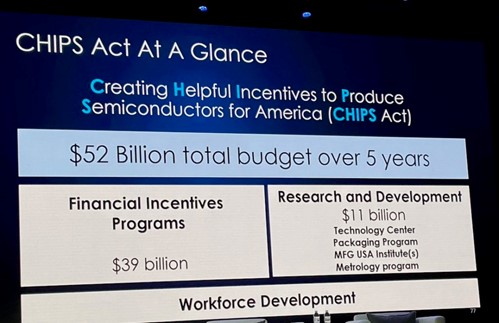 6 Reasons for India to accelerate its fab/ATMP focus
Essentially, SEMICON West brought home the following key points for the India delegation at the SFO event.
Exploding Demand
Global demand is expected to double by 2030 from current $550 billion to $1 trillion as semiconductors expand into automotive, life-sciences and many other industries. India has also shown a strong consumption demand – let us not give it away- and let us tap into this emerging bonanza while we can!
Technology Window
Moore's law slowdown is creating opportunities beyond Moore. More-than-Moore technologies are creating unique windows of technology opportunity.  India should move fast to leverage these opportunities.  The opportunity is to side-step the cutting-edge low geometry fab (sub 15nm fab) and leverage more mature nodes for mainstream chips.
Geo-Politics shifting semiconductor supply-chain
As tectonic shifts are enabled by geo-political pressures, there is an opportunity for India to build its semiconductor supply-chain niches. As CHIPS act shifts manufacturing to USA, India can evolve its semiconductor supply-chain for the glocal opportunities.
Advanced Packaging
Semiconductor packaging is going to be a key enabler of the go-to-market technology strategy in the coming years. The key drivers will be lowering cost per interconnect as die geometries shrink, faster TAT to market and overall optimized system costs. Advanced Packaging will surpass Conventional packaging by 2025 as per Yole projections and is already growing significantly faster than the conventional packaging. US CHIPS act is showing the importance it is giving to semiconductor packaging in its projected investment plans. Likewise, India should focus on building an Advanced Packaging project to enable a sustainable semiconductor sector.
Opportunities in Compound Semiconductors
Compound Semiconductor technologies are set to become mainstream for power electronics and RF (Telecom) applications. GaN chargers are already showing explosive growth in mobile sector and evolving 5G telecom networks will fuel a huge demand at the edge and base-station devices.  Interestingly, most wide bandgap fabs are operating with a 6" wafer and 8" fab projects in this technology have just started coming up. This is again an opportunity for India.
Design Automation vs Semiconductor Manufacturing
It is interesting to note that SEMI co-hosts SEMICON West (focused on Semiconductor manufacturing) with Design Automation conference (focused on EDA companies and design ecosystem).
India has a strong MNC engineering design ecosystem. The chip designing ecosystem has evolved but there is a limited capacity of indigenous design. In most of the situations, neither the IP nor the brand is controlled by Indian business – the local developers primarily operate as software coolies for the MNCs.
Similarly, while India has successfully got its EMS industry, its semiconductor manufacturing ecosystem is weak.
A holistic development of the ecosystem from design to semiconductor manufacturing is the need of the hour for India.
End Demand & End Manufacturing are advantage India- we need to play with confidence – to win the endgame- and that is to carve an Indian niche in the burgeoning semiconductor sector.