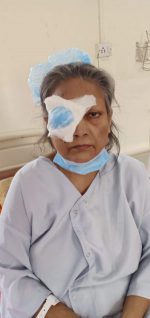 Sonu was concerned at the failing eyesight of his mother, Rekha Gupta….but, as a daily wager car mechanic, he was financially constrained!
But then a good son is his mother's eye…he reached out in his ecosystem for help. And Brij Mama , who knew of my service for eye-care for the poor, brought his case to me.
Sonu and I have never met – but we talked on the phone. And I connected him to Dr.Shroff's Charitable Eye Hospital in Daryagunj, New Delhi. He and Rekha ji were received with all affection and care at the hospital by the donors' department leaders – Kiran Mehta ji, Sanobar and Nidhi.  And we raised the money for Rekha ji's operation!
If you have seen my previous posts on the eye-care projects that I take, you will have realized that I normally go and meet each of the persons I 'touch'.  This time, with the Corona guidelines, I did not!  Hats off to the team at SCEH and to Sonu for taking care of Rekha ji and seeing the project thru…Each of the case I worked with has talked of the personal care and affection with which the staff at SCEH took them thru the process.
The Operation was a success- and I am happy to report Rekha ji regained her eyesight!
I applaud the Team at Dr. Shroff Charitable Eye Hospital for their dedication to service. They have a vision to make this part of the world free of curable eye issues. And they are working at it even in the trying Corona times.
I am proud to share their cause – and I care for eye-care for the poor. Does an isolated case make a difference to the world? It does make a world of difference to that one case – and it gives a special strength to take on the next case and the next case and the next case…
We make a living by what we get – we make a life with what we give!  If you want to join me on this spiritual service, feel free to connect on +91 9910555970 and I can share more details on eye-care at SCEH and my journey there. I end this post with a collection of quotes on 'giving"…
(BTW- Dr. Shroff's Charitable Eye Hospital is over 100 year old public organization named after one of the earliest eye surgeons of India…and a venerable institution in itself)!