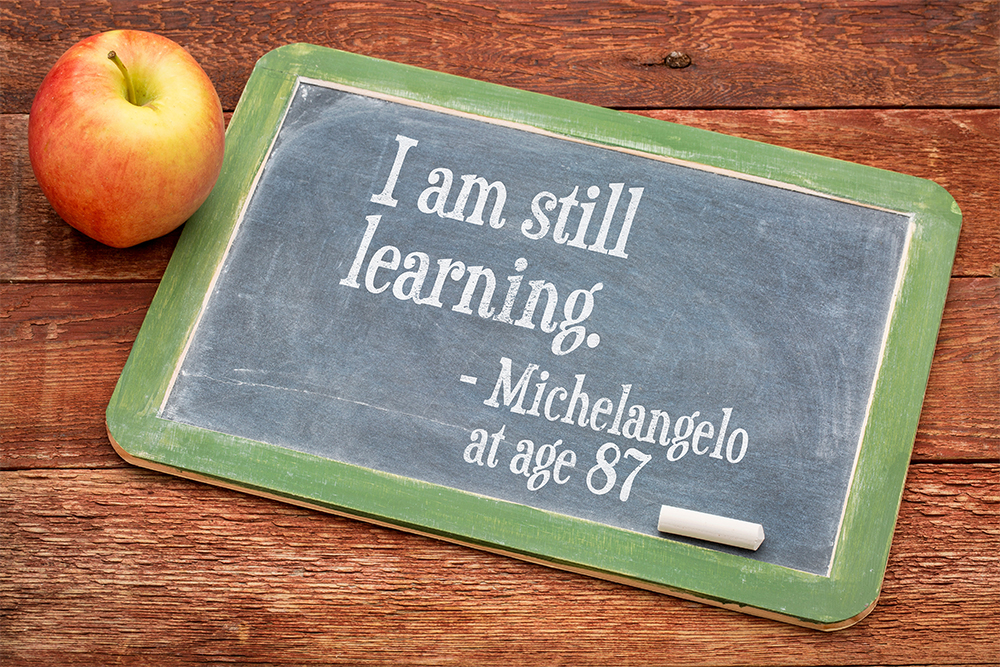 Applied Materials shaped me in two distinct ways over the years…
Applied Materials has been a wonderful professional experience over the last decade. I am sharing here two unique programs that resonate with me, represent the company core values and has evolved me in my career at Applied -and in my life as a better person.
First, of course, is Applied's Tuition Assistance Program. Continuous learning is a powerful value built into the company culture. I used it to get my PhD, and I'm currently using it to get my MTech, not to mention numerous certifications and knowledge bytes that are phenomenally evolving me as I work with the best of the best in delivering industry-recognized results. Anyone who keeps learning, keeps young and I have built the continuous learning goal into my life's fundamentals. This is driven by my reading goals as well as an annual learning goal.
Applied has a very clearly articulated value system: we lead with winning teams that operate with integrity and trust, delivering world-class performance for our customers as their most valued partners. Knowledge and initiative are some of the values that we focused on in our culture champion program. The company has a very extensive continuous learning program for its staff, huge technical resources, and a highly collegian, learning environment that brings out the best in the individual.
What happens when this quest for knowledge and innovation is scaled across the entire organization, individual by individual? Something magical happens – that changes the individual – and through him the organization!
It does not stop with the organization—it is a change that permeates across the individual's personal circle. The upliftment of values has a positive impact on his or her family as well! Over the years, the pursuit of my learning goals has induced others to look at their learning goals, just as I have picked up the best practices of others to shape myself. Today, despite being a government affairs professional, I have positioned myself in the industry as a semiconductor industry professional and make tech presentations confidently on my own, compile and write industry white papers, and chair key semiconductor technology sector industry groups. Applied's continuous learning program is shaping me as an individual and the company as a living organization.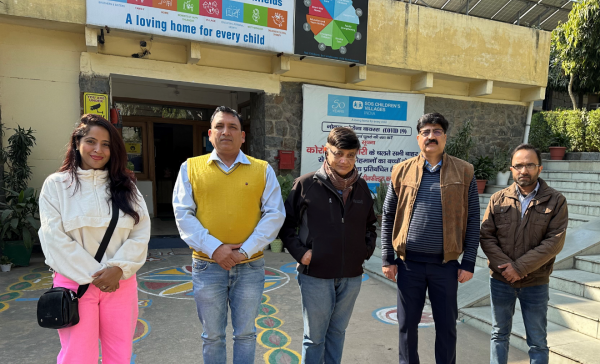 With the AMAT team at SOS Children's Village in Dec Fight Against Hunger Campaign. In the picture are Neelam Belwal (GIS); Praveen Kaushik (CSD); Ashwini Aggarwal (GA); Sanjay Hakkhu (Village DIrector, SOSCV) & Dipankar ji (Dy.DIrector, SOS CV).
The second program that shaped me is its CSR program. Corporate Social Responsibility programming at Applied is exciting because it empowers the individual to take charge of his goodness objectives. I fundamentally believed in the power of giving, but Giving at Applied is made powerful by the power of teaming with other believers and helping the needy where it makes a difference. This teaming happens with an induction effect triggered by our annual "Fight Against Hunger" drive where individuals and groups get together and raise funds for the cause with matching contributions coming in from the organization. As more people contribute, the total amount raised grows, demonstrating the power of doing good collectively.
NGOs like SOS Children's Village (ref my posts) are doing great work and we have been visiting them regularly over the last few years. It gives a great feeling to interact with the children and their 'mothers' – and a phenomenal feeling of satisfaction that the donation 'trusted' with the foundation is being used effectively and appropriately. Interestingly, those of us who visit and 'touch' the beneficiary become strong converts to 'giving'. Moreover, the group that goes for the field visit develops a strong bond that builds the group —and the organization.
The interesting thing about Applied's program is that, besides the visible approved NGOs, there is a vast range of approved NGOs that can benefit from the program. Another NGO that I have been a regular contributor to is Dr. Shroff's Charitable Eye Hospital in Delhi. This is a 100+ year-old institution named after one of the earliest eye surgeons of modern India and it does amazing work in the field of eye care (not to be confused with private hospitals of similar name). Throughout my giving journey, I have met several impoverished people who were on the verge of losing an eye due to a lack of funds. I have leveraged Applied's CSR program to get several such persons operated at Dr. Shroff Charitable Eye Hospital (SCEH). From Vicky (22 yr. old migrant who almost lost vision in both his eyes), to 2 yr. old Kusum's ( mother blind, father dead) to get the smile back on Salma's face …we changed their world and changed our world with our interventions.
In both, Dr. SCEH and SOS Children's village, I have been a part of their community drive and Applied Materials India also gives a time donation grant to the approved NGO. The power of company matching funds, volunteer time credit, hand-me-down laptops, and smartphones (during COVID time for the children's virtual school) and seeing the difference that we collectively make, is what powers 'my cause' for me- and shapes the company culture uniquely.