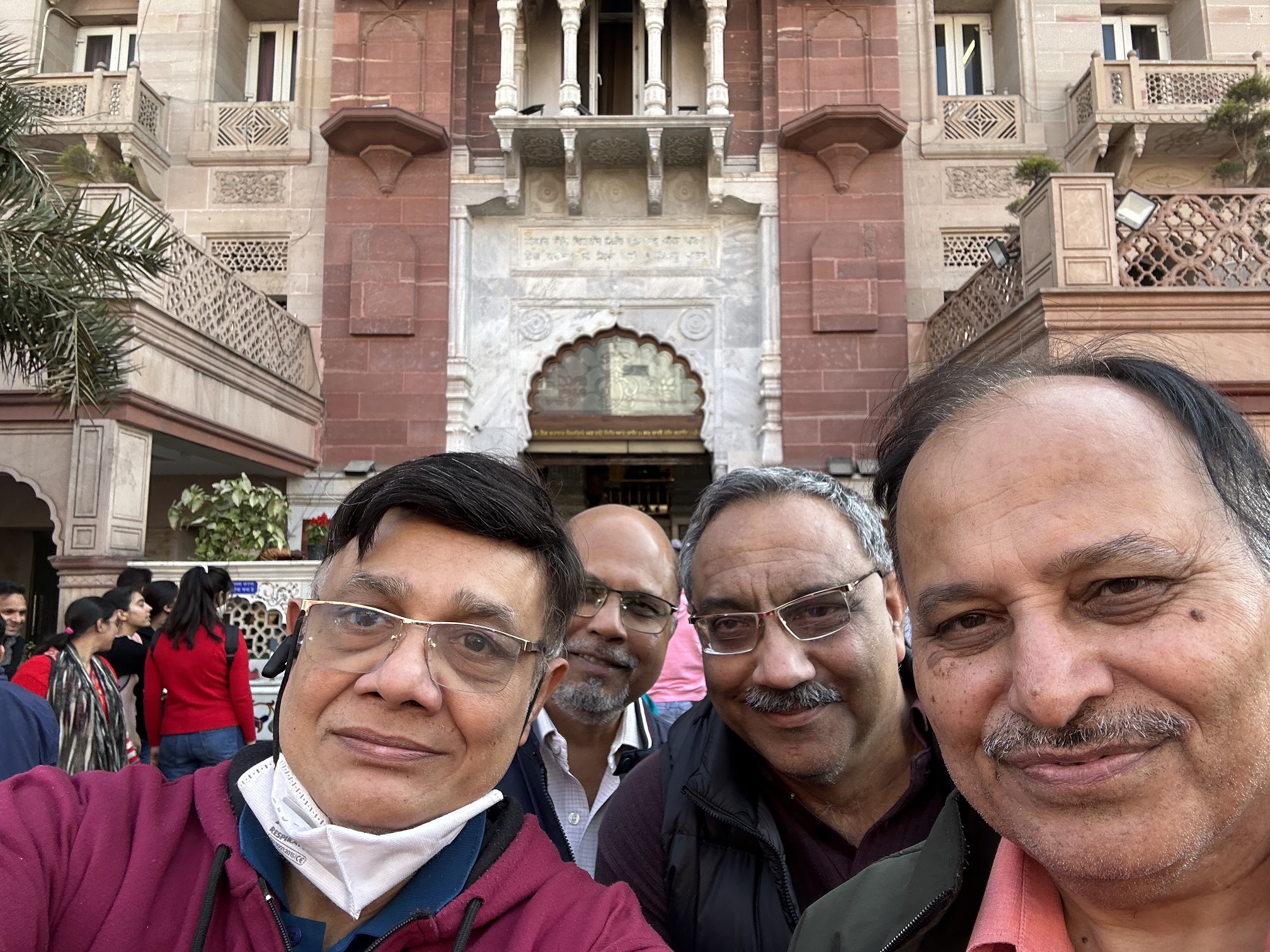 Chandni Chowk, the bustling heart of Old Delhi, is a food lover's paradise. And what better way to explore it than with a group of old friends? This Saturday, I had the pleasure of joining a group of my college buddies on a food walk in Chandni Chowk, and let me tell you, it was an experience to remember.
First, as I was about to get into the Metro, Vendy – my better half – called me and renegotiated what she expected for me in exchange of the few hours of bachelorhood freedom that I was being granted. Among other things, (essentially) I was to truck back the full Chandni Chowk tuck to keep body, soul, and married peace (if there was some such thing) together!
Called up Dadu and requested him for some bag that I could use to comply with Vendy's demands. As a married man, he understood the challenge I had and agreed to bring one along.  We were to discover that Hardip had also brought a rucksack on a similar agenda!
Dadu, Hardeep, and I met at the Gurudwara Sisganj Sahib – commemorating the martyrdom of the sikh saint warrior. Pradip Saxena was on-the-way and it was agreed that he would intercept us in the walk.
We started off our food journey at the famous Paranthe Wali Gali and were simply swept in by the rush. The famous paranthe walas were all crowded and we moved across to the hole-in-wall Jangbahadur Kachoriwala where we devoured his famous kachoris. The rush was unimaginable – and we moved to one side of the narrow street, crouching under the tangled electric wires to escape the traffic peak in the middle of the road – our sole solace in the spicy kachori and sabzi. It was the perfect way to kick off our food walk and set the tone for the rest of the day.
Then, we came across a vendor for "Daulat ki Chaat" – a Chandni Chowk special dessert that can be devoured only during the winters as a vital part of its preparation uses the wintery dew that settles atop boiled milk when cooled. This dessert needs almost half a day and an entire night to look it's pretty self and can only be kept in the open for a mere 2-3 hours before the frothy, foamy dessert succumbs to its inevitable state of milky liquid.  The trolley vendor looked at us, and showing his teeth- told us that it was going to cost us Rs.100/- as his stock was selling out! I could see that he was making his Daulat (wealth!) out of us – but that did not deter us from sinking our teeth in the delicacy!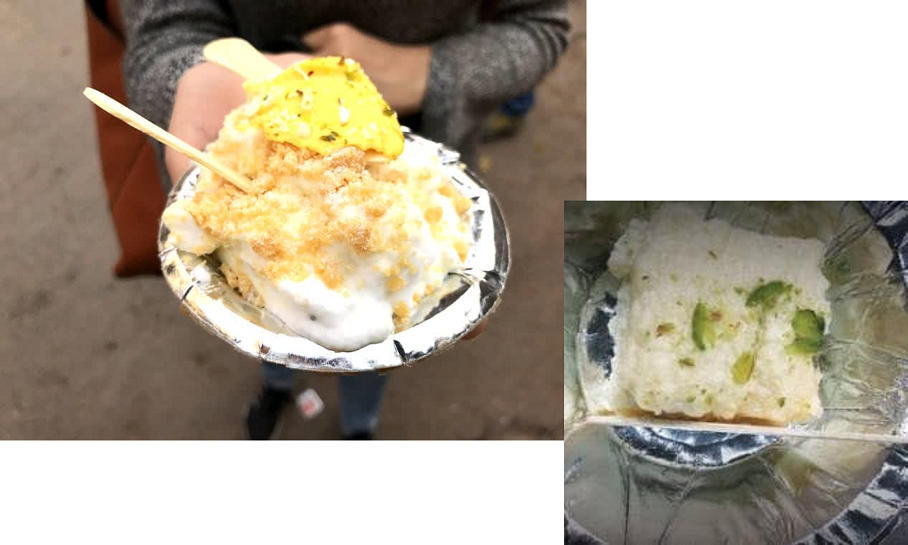 Next up, with Pradip joining the group, we headed to the famous (as Hardeep shared, everyone claims fame in Chandni Chowk) Hazari lal Khurchan. Once more, the crowd swept us along the narrow by lanes of Balimaran. Where the tide left us, we asked about the Khurchan shop – and discovered it as another hole-in-the-wall shop. Now, I have to be honest, I was a little hesitant at first. The sweet is known for being rich and heavy, and I wasn't sure my stomach could handle it.   But, oh boy, was I wrong. The Khurchan was out of this world, and it was followed by rabri that one could die for. I knew this would placate the deity at home and ordered a couple of plates packed!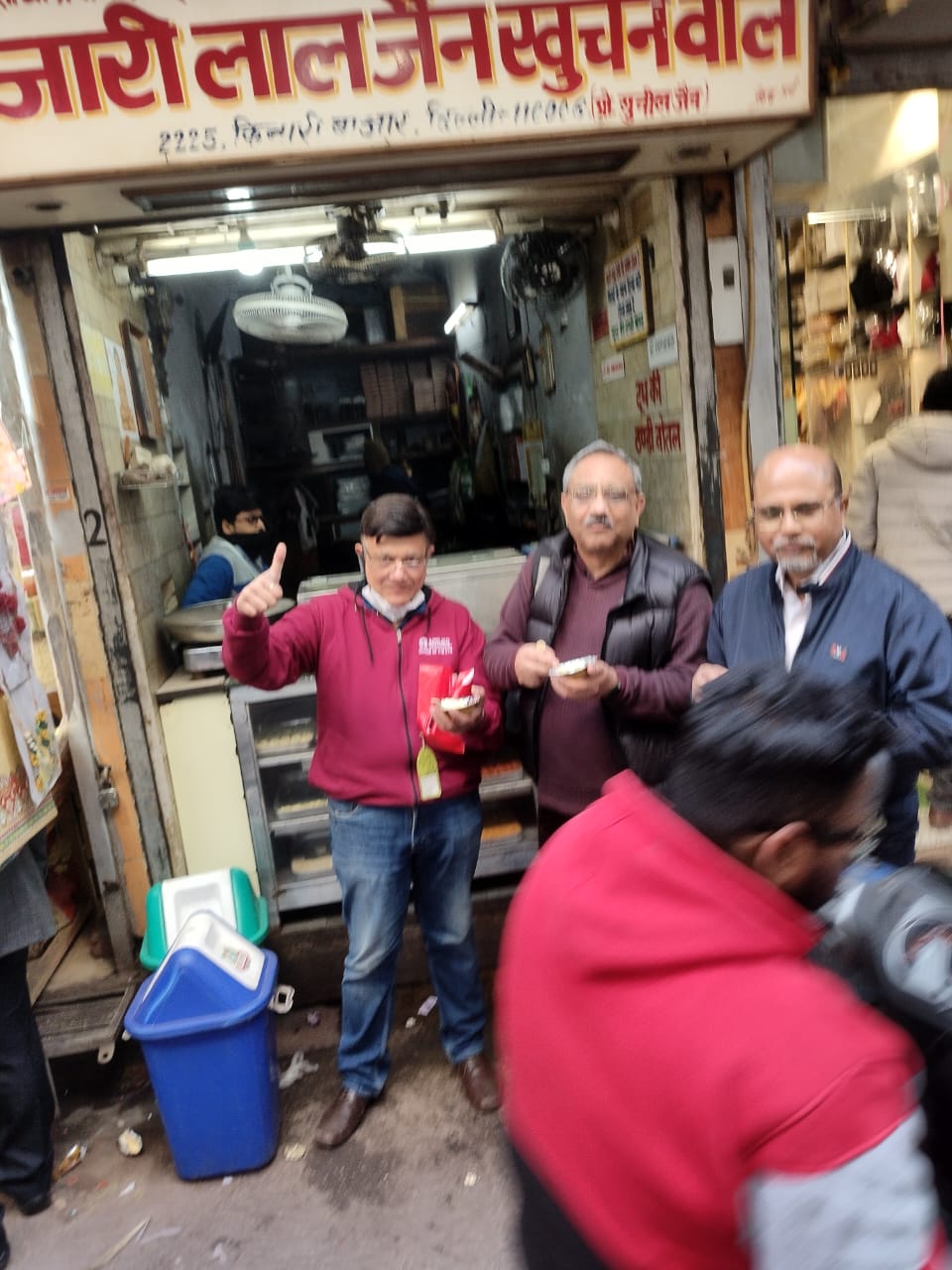 As the day progressed, we made our way to the special Jalebi wala, where we indulged in some of the most delicious matar samosas and sweet jalebis imaginable. Again the line for the delicacies (see the photo below) was something to be seen – Dadu and Hardip held that front. From jalebi to rabri, we tried it all and our sweet tooth was more than satisfied.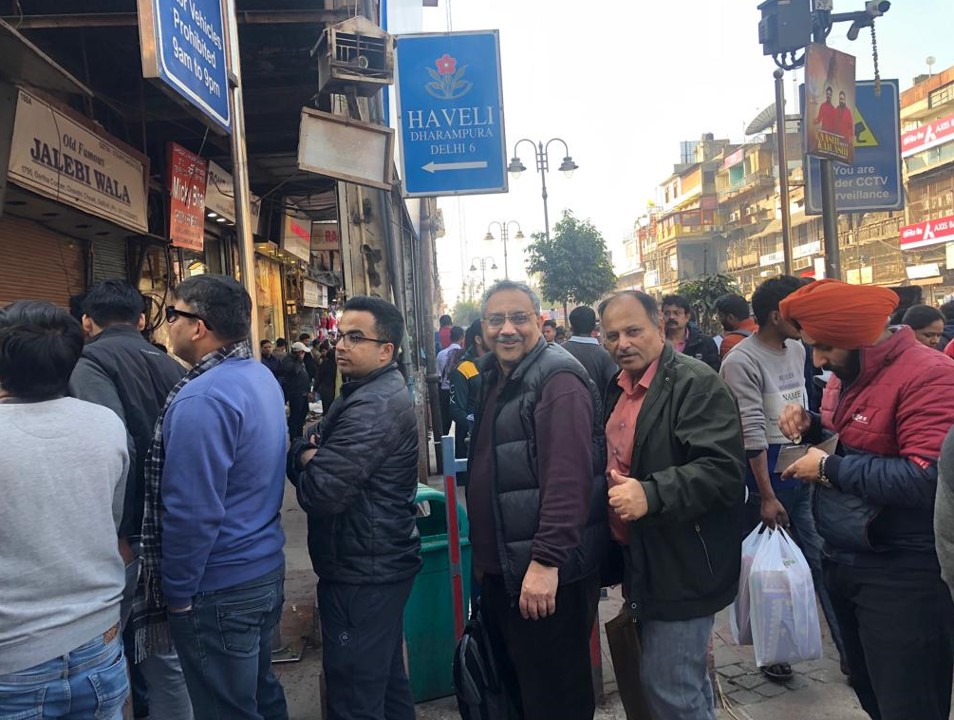 But then the walk had just started. We decided to do Natraj Bhalle – a short walk – and we realized that the line there was longer than the line at the jalebi wala.  So, we moved on, my friends sampling Kanji vada at one shop and lemonade at another!
The  highlight of the day had to be the famous paranthas…Kake di Hatti had a queue as well -and the waiting was for 20 minutes, so we went into Jagjit di Hatti! For its old world dhabha setting, the service was  good, we all rested and devoured a mix of Alu Parantha, Chili Parantha and Panir-Pyaz Parantha with perfect curd…. As we sat there, reminiscing about the day's events, and sharing stories from our college days, we realized that this food walk was about so much more than just food. It was about spending time with old friends and creating new memories. And that, my friends, is what life is all about.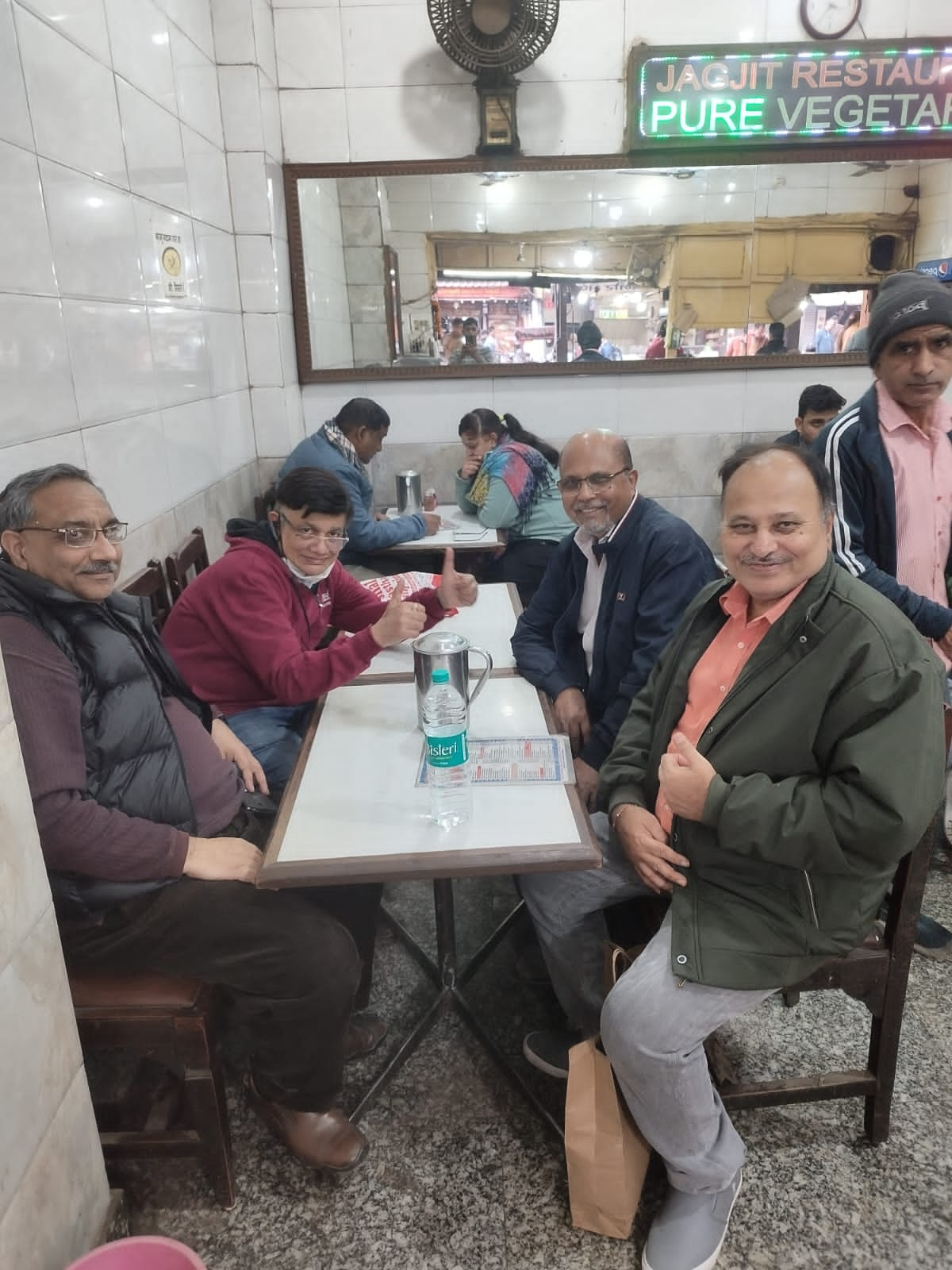 And then, of course, Hardip and Pradip had their Rabri Falooda at the famous Gyani's (as shared before, everyone claims fame in Chandni Chowk food walk)!
Satiated, we started our way back to our starting point, feeling full and satisfied – in a Rs.20/- rickshaw ride.
In conclusion, 4 tips for the perfect Chandni Chowk food walk:
take it with old friends
Make sure you come hungry
Add laughter and memories to the delectable street food
Bring your bag-for-the deity at home!
(Best part- she was satisfied with the prashad of khurchan, matar samosas and paneer paronthas – and I could live to tell the tale – and someday, go back for the chaat, bhalle and bhature!)
#ChandniChowkFoodWalk #OldDelhiFood #ParantheWaliGali #OldFriendReunion