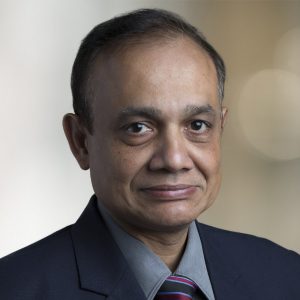 Director-Government Affairs, Applied Materials India, 2011-current
Chairman, Semiconductor SIG, ELCINA, 2022-current
Board Member, Electronics Sector Skill Council of India, 2022-current
Chairman, National Occupation Standards-Solar Skill, Electronics Sector Skill Council, 2019-2021
Chairman, Technical Working Group, Energy Storage Alliance, 2020-2021
Chairman, India Electronics & Semiconductor Association (IESA), 2017-18
Board Member- IESA, 2015-2018
Ashwini has an earned PhD from AMU,  is a Fellow of Institute of Electronics & Telecommunications Engineers and is a Life Member of All India Management Association.
An M.Sc. in Physics and Electronics with distinction from St. Stephens College and an MBA from Faculty of Management Studies, University of Delhi, Ashwini has rich and diverse experience in handling Enterprise and Government segment for the tech intensive ESDM sector.
At Applied Materials, Ashwini handles the government affairs program which covers the public policy and market development initiatives relating to high-tech electronics including semiconductor electronics and solar. Ashwini is an industry veteran of 30+ year experience including, 18 years in Hewlett-Packard in several important and developmental roles. He has also worked with Omnicom Media Group, in their group company, CPM India as Vice-President, Strategic initiatives.
As IESA Chairman and Board Member, he has handled a range of advocacy and ESDM industry development initiatives. He was the Chairman IESA for the year 2017-18 & is the current chair of the Semiconductor SIG @ ELCINA. He is the co-chair/Executive Committee member for key committees in IESA, ESSC, USIBC, CII, FICCI, ELCINA & IEEMA.As the Chairperson & Subject Matter Expert (Solar) for the Solar-LED National Occupation Standards Committee of the Electronics Sector Skill Council, he is actively engaged in upgrading the skill standards to global benchmark levels. He is also the chairman of the Technology Working Group at India Electronics Storage Alliance.
Ashwini is well known in the industry for his creative and breakthrough market/industry development initiatives at HP and at MAIT. He is a well-known industry speaker -and was the IT Channels 'Most Favorite Marketing Manager' for the year 2006. Ashwini has authored a book on Novell Netware.. He has a number of industry white papers as well as several peer-approved papers in international journals to his credit.
Ashwini has authored a number of peer-approved research papers and industry white papers. His work on modeling the consumer behavior of the residential rooftop solar buyer has won best paper awards in International Research Conferences in Delhi and Dubai. His thought papers "Financial Enablers for the Solar Sector" and "Making the Indian Solar industry shine" were placed by the MNRE on the industry comments section for the 12th Plan inputs. His work on "smart manufacturing program for India" is a recipe framework for building a globally competitive, profitable Indian industry. Ashwini is a Certified NABCEP PV Associate and a subject matter expert for the solar and semiconductor sectors for the Electronics Sector Skill Council.
ORCID Research ID; 
orcid.org/0000-0001-9503-7874