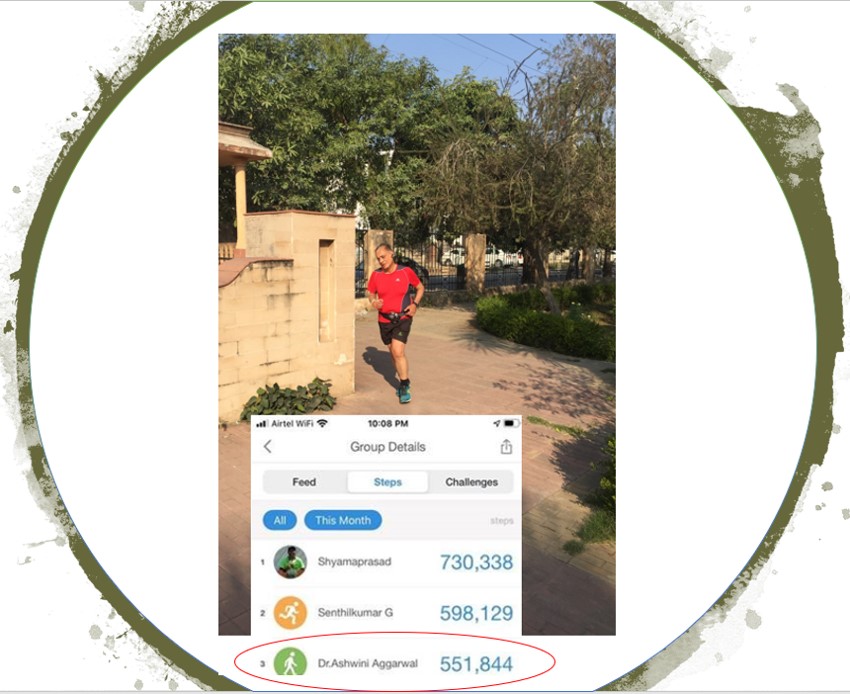 Dec'20 – I clocked 550,000 running steps – and a personal best record of 400km. There is tremendous power in going beyond what one thinks is possible…Here are five tips on what made it happen!
It was an adventure
Started running a few years back (2013) and it became a part of life. It was normal for me to step out and go for a run in the sector park – doing 16 rounds in a hour and enjoying the tranquility and feeling of achievement at the end. Or, when I was running on the tread at home, I would just have a nice western or a how-to video from youtube that would keep me engaged during the hour…
Of course, it was the outdoor runs that I loved – whether it was running in the sector park – or in the town park; in the summer afternoon, or in the morning fog, or , once, even in the rain…
  2. It was fun and a part of life/ group running helped
I did become a familiar figure to the park visitors – running in my shorts and running gear! N ow and then there were residents who would compliment me and that acted as a motivation as well. The PB in Dec'20 happened because my company announced a competition in which we created a group on pacer application.  I owe it to my virtual running mates (Senthil, Shyama , Magesh and Joshi)  for raising the bar. Thanks to them, I pulled myself up beyond far more than I had ever done.
It was an inspiration
I owe my personal best to the books on fitness that I read -and put into practice over the last few years. And to friends and relations who have been running. Their running stories inspired me….  From Rahul Varghese ( Hauz Khas Neighbor, who left a corporate career and made running his life mission) to Princy Bhatnagar, Ajay Mohan & Sonia Nagpal (HP Colleagues) to Narayan Joshi ( AMAT colleague)…all of them have been fellow runners…and inspirations as I stepped ahead….
It was a metric
The fact that I was measuring my run helped. It defined a baseline and as one kept breaking a threshold, each new high created its own motivation.  Thru my corporate life, I have learned that if you can measure a goal, you can achieve it!
it was a mental commit
Ultimately, it is a personal commitment – one commits the time for it and one commits the sweat for it.  However, interestingly, I don't think my normal work productivity suffered because of this commit. My overall time productivity was at peak heights thru Dec – and I was able to achieve my PB because I just minimized my unproductive time!
Only by risking going far, can one realize how far one can go…and progress is more important than perfection. Just do it!
The runner's belt that I got is my first running award – hopefully not the last – and I look forward to running with it in the new year …and beyond!
My key message to you – just put on your running boots and step out...it is an exhilarating experience!