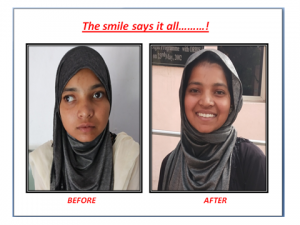 Helping one person may not change the world – but it can change the world for that one person.
Salma's smile says it all!
The way to change the world is through Individual responsibility and taking local action in one's own community (Jeff Bridges) . I am proud of my humble association with Dr Shroff's Charitable Eye Hospital – this dedicated team is doing an amazing task bringing hope to the destitute blind, making a real difference, serving in an absolutely self-less way…
Eliminating blindness – or providing the needy with appropriate eye-care is a herculean task. Without it, these poor people would be damned in the most horrifying way. Can we imagine that all that separates them from the horrific life is an appropriate medical procedure?
No one person can change the world – but one and one and one can add up. I am a regular contributor at Dr.Shroff's -financially and thru personal commit.  If you can … do join in this endeavor—together, we can change the world, one random act of kindness, one miracle at a time..