Case book 2 part 2: Epilogue Kusum and Geetha
Kusum's 1st operation happened on 7th April.  And the 2nd operation was performed on 10th April (today). The photographs in this log are taken by Sandhya (Donor department/Dr SCEH) shortly after the operation with Geetha ji and Kusum in the children's ward at Dr Shroff's Charitable Eye Hospital.
Both operations were successful. There will be follow-ups and checkups to monitor the progress.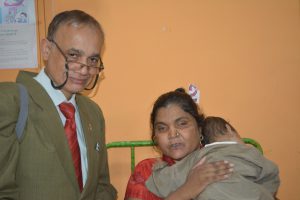 However, as Geetha ji, her mother told me, Kusum was usually silent before the operations as she could not see …post the first operation itself, her excitement and 'kilkari' (child's sound of delight) as she saw a whole new world open out are indicating the success of the procedure….
I gave out chocolates to Sakshi (Kusum's 5 yr old elder sister, Geetha ji, Kusum – and the few people who had accompanied her. It was a joyous and blessed moment to celebrate…
Geetha ji and Kusum will be at Dr SCEH today and will be discharged by tomorrow.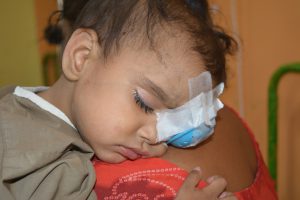 Pratima ji has in mind to work out a life re-engineering for Geetha thru her network and entities. Today a major step has been concluded. Helping these God's people thru basic rehabilitation/basic education will be the natural next steps….