Imagine an education fountain-head that unleashes creativity and spirit of innovation in it's students – from the initiating first year to the years beyond the academic years….It was an intoxicating experience today taking in the passion of the faculty and leaders at KLE Technology University.  But the best part was experiencing first hand the students' excitements as they worked out solutions to need statements from the market place.
I had heard of Dr Ashok Shettar (Vice Chancellor at KLE Tech Univ) and his pioneering work in evolving the pedagogical delivery of creativity at KLE Tech University.  It was an experience meeting him and going thru the student demos and talking to the start-up entrepreneurs.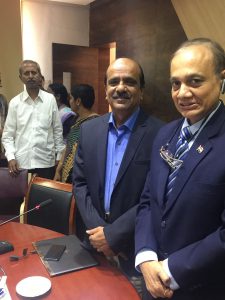 I have seen somewhat similar conceptual treatments in some other forums – KLE Tech stood out in
The scale of creativity
On the coherent integration of the hands-on creativity experience from first year of the college
Building a cross-functional , cross-fertilization of ideas approach
Providing makers's space with 20-30000 sq ft of facilities for mechanical proto-typing and electronics proto-typiing , literally crashing lead-times ( somewhat like Xian/China's claim to fame)
Incubating external entrepreneurs in campus to build a chain-reaction across the academic, industry interface….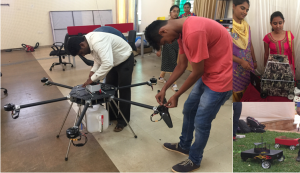 Dr Gopal K Joshi  leads the Centre for Engineering Education Research and Nitin Kulkarni leads the Centre for Technology Innovation and Entrepreurship. First focusses on unleashing the creativity and integrating engineering design basics in the students from first year – the second takes the prospective entrepreneurs into it's  start-up program…and Dr Shettar has pioneered a KLE Tech Park to host the start-ups in their next stage…
Today – the presentation shared that the 5 year old initiative now has spawned 38 startups – 8 have moved to the next stage and 2 have crossed 100 crore valuations!
Clearly, something is working beautifully at KLE Tech Univ… Something that we can leverage upon in our evolution of NETRA and creating not just an industry-ready talent base – but also create gems that can sparkle , the start-ups that can power the regional economy with revenue and jobs by innovative product creation that serve local and cross-border needs…