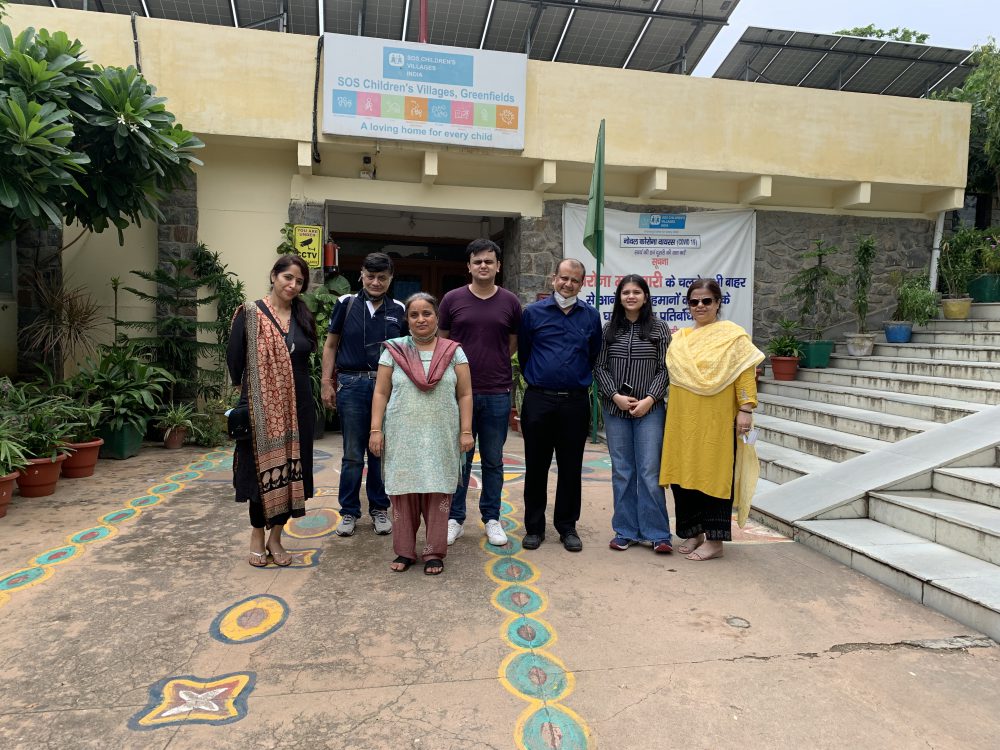 From Right to Left: Neelam, Ashwini, Dr.Niharika, Sarthak, Amit Garg, Lavanya and Shweta ji at SOS Children's Village, Faridabad on 7th August,21
We returned to SOS Children's Village, Faridabad – this time with Amit Garg and his lovely family – and Neelam Belwal.
Neelam is an AMAT work-from-home GIS (IT team) employee – and stays in Faridabad (very close to SOS village). Amit is a healer/motivation speaker and an old ex-HP colleague. They both came forward on my previous social media messages and have emerged as wonderful SOS Children's Champions.
Lavanya and Saarthak (Amit's daughter and son) gifted a laptop to the village – and the unit was handed over to Dr.Niharika.  Shweta ji and Amit had come with a sack full of eatables and books for the children. After a quick walk-thru of the SOS Village display gallery, we went over to the village.
The first SOS home we visited was of MMe Budhini, then we visited Manju ji's home and finally, I dropped by and met Poornima ji.  Shweta ji (Amit's wife) and Neelam – the adult ladies in our group- warmed up to the community and thru their interaction with the mothers we learnt of the children and their aspirations – and their success!
SOS children's village is a wonderful community and an amazing realization of family-based care for the most vulnerable children in our society. In the actualization of the program, we are creating contributing, self-sufficient members to our future society – and a caring community!
The children require clients to access online classes. We have already raised two ( an iPhone and a laptop)…and we are contributing one child's keep (Rs.28000/- annually)….
More important, Amit has offered his wonderful motivational speaking services for the children. Neelam and Lavanya have also committed to the cause.
From my experience, this is an important milestone in the movement – when individuals adopt and rise to a cause – it starts a force multiplier. And with it, one person, one act of kindness can multiply many fold.
We do not have to change the world, we just change the world of an individual. And it is not just the recipient who changes – it is also the world of the giver that is changed forever!
Join the movement – to make ek or ek – gyarah  ( 1 &1 is 11)!
In the photograph below: SOS champion Lavanya donates  the laptop for SOS village children while proud father (Amit ji watches) – the SOS volunteers are maintaining social distance while being mentally aligned!