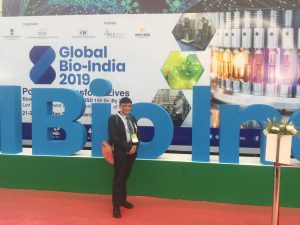 Attended Global Bio 2019 – a BIRAC DST lead initiative to build on the Bio-Tech wave in India. Few learnings from the event:
BIRAC leadership is doing a great job promoting the Bio-Tech ecosystem in the country. This event was building scale for the $12 billion Indian BioTech industry. It employs 1 million people and the ecosystem has over 2500+ companies. There are over 15,500 Bio-ech graduates annually! The Indian Bio-economy was valued at $33.6 bln in April-Sept 2019.
More important was the vision. It appears that the industry could cross $100 bln on current industry growth projection of 14% by 2025 ( $128 bln) – and with some initiatives do even $162 bln on a scaled growth of 18% driven by technology disruptions and regulatory interventions! It could grow from 3% share of the global economy in 2019( growth rate of global economy is 7.4%) to a share of 19% of the global economy by 2025!  This, then, could be the growth engine that takes over from the over-heated, flagging IT services economy!!
It was nice to walk around the exhibit area and see the startups with their innovations and aspirations. From a new capability prosthetic devices to specialized formulations…the startup space was full of energy! Met Shilps Sciences who had presented their lab-on-chip innovation at Applied Materials Engineering Week in Sept 2019.
Bio-Partnering call with NCL exposed us to the capabilities being developed at this hidden gem of the CSIR labs.
Overall – a fascinating day with a lot of learning and thought provocation. Wish though that the startups had more speaking space where they could present their work to the conference audience – and VCs, instead of just a walk-around format!
One thing is clear – we are seeing the arrival-of-age for the Indian Bio-Tech industry!