The excitement at Display week'17 was at sharp contrast to the previous years. Contrary to expectations, the Display industry had been doing very well, viz,
Display sector was turning 20%+ gross margins ..The Display Panel Stock Index by DSCC has delivered a 45 % growth in capitalization over the 16-17 period
The industry demand forecasts were getting revised upwards…
Capacities were getting ramped up globally – Chinese were leading the wave…
And new era of innovation was being heralded with OLEDs taking over the mobile display space over the years and fresh sectors in Automotive, healthcare, military, AR-VR exploding out…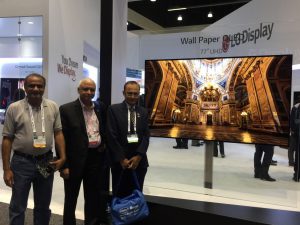 Applied Materials presentation by Dr Brian Sheih built on the 4 megatrends in Display fabs neatly.
Shift from 'components' to 'process'
Evolution of 'factory-in-factory' tooling
Increasing Semiconductors like complexity in display (with scale in size, putting demands on process and device capabilities to enable yields at higher resolution in capricious and demanding process conditions)
As resolutions increase, 'killer particle defect' identification would need in-line, in-situ inspection –leveraging Semiconductor like CD-SEM technologies (Critical Dimension Scanning Electron Microscope)
Koreans – LG and Samsung – took front position as OLED leaders and shared their 30 years of OLED story. The OLED pioneers went down the memory lane sharing the bold decisions in Samsung Korea to create the LCD panel and OLED divisions in mid 90s…and their journey since.
Today, Chinese players like BOE were fast moving in with expanded capacities, latest fabs and focus on niche but rapidly emerging display sectors like Automotive displays …among others.
4 point learnings for India
We have the enduser market, speed-to-market and execution are the critical missing success factors
We have a unique window of opportunity in the LCD panel sectors. QLEDs/Quantum Dot technologies were giving a strong mainstream, sustainable strength to the LCD TV panel industry- Twinstar core strategy for India LCD panel fab is strategically safe and a low hanging fruit position.
Even going beyond LCD panels, there are enough innovation add-ons at this stage for India to focus on without rolling over and playing policy dead…
Talked to several innovators to understand their propensity for India. Clear interest and general enthusiasm (real…not skin deep) – Will work with IESA secretariat and IIT K to see if we can create an India Display forum by December to 'mine' the interest and enable buildup of the display ecosystem. Clearly, with Twinstar fab in the wings, there is a lot of catalytic action that can be precipitated with the government and the display ecosystem coming together at the right time…
We just have to move on and start building our industry. I really hope to see it happen this time…