Case book: Vikram Sharma, 27 year old patient with retina damage
I was surveying the street residents  post a crime incidence when I met Shivani Sharma. Shivani is a home maker in a poor, destitute family living in 542 Sector 9 Faridabad. Their hindu pandit family had come in as refugees from Afghanistan a few years back and had been granted Indian citizenship. However, they had lost everything in transition but a basic human decency and pride.  And were a family of 8 staying in a one room set as caretakers, while one male member was running a tea stall as their sole source of income in a nearby hospital facility.
I saw the sheer despair in Shivani's eyes as she took the courage to talk to me of their need for Rs.1lakh for a critical operation for the second male member  of their family, her young brother in law, Vikram Sharma. Vicky, as he is called, had an accident a year back (January'14) and was having visual impairment. They had hoped a self-recovery and when conditions worsened, they had gone to an eye hospital (Nayanjyoti on 1st Aug'14) which for some 800/- had recommended an eye operation estimated at ~1 lakhs. Since they had not got the money, they had continued in the hope of a self-healing miracle but Vicky's vision was detiorating. Worse, he had fever –and he lost his job because of his health. Not that the Rs.6000/- per month / 12×7 job in a cloth merchant's shop in Sector 7 market was much …but it was still a family cash flow…
When I went for the survey to Shivani Sharma's place on 30th Dec14, she took courage and reached out in desperation. 'There was some property that they could put up as security…they required 1 lakh desperately'.
I was appalled. One lakh was a huge amount – I had already loaned a substantial amount to my driver, family's medical demands and commit for the lane security were all accumulating into a tidy sum. I asked for the medical papers for review as I left for office work.
On 30th evening, I went back and collected the medical papers and got some more details.  Since I was leaving on tour on 31st morning, I scanned the image and sent it to an eye doctor in the acquaintance circle. She was also on leave, travelling to Pune to be with her family. However, over the next two days, while on tour, I got her input. The eye operation was required – it could cost a little lower at about 80 k ina good facility but that was it..
I came back from tour on 5th and was in Faridabad till 9th.  I quickly tried to reach out to people to understand options, raise funds and explore costs. Dr Bharti Gupta , a known Fbd eye surgeon, was travelling on year-start holiday, would be back on 13th as per his office. Some like-minded persons committed a limited opening support.  An ex-lion club member declined support saying this was no longer a focus!
A warm response came from Protima Garg/Sec 9 who pointed out to Rotarian Mr Vasudev (15th Jan), who committed +ve support but wanted to meet the patient. I arranged this on 16th. Mr Vasudev then pointed out to Mr Pattwa, head of a NGO doing eye operations  at Santon Ka Darbar,NIT Faridabad and which was supported by the Rotarians. I talked to Mr Pattwa – he pointed out that they only did cataract operations and for Retina we had to go elsewhere. He pointed us to Dr Shroff Charitable eye hospital in Daryaganj, Delhi.
I took inputs from others in my circle. The private practice in Dr Shroff apparently charged a lakh+ for similar operation. At any rate, my other eye doctor contact said that they had good facilities and were worth exploring and so, 17th Jan, I took an appointment and took Vicky with his 2 family members to Dr Shroff's at Daryaganj.
We reached on the specified time and they took a 100/- general category registration.  I admired the heritage building and must record that they were extremely systematic and efficient in their administration of the patients. Vicky was examined by a series of people and consultants from morning till late afternoon. (We finally returned 11+ hours after starting….)
Dr Shalini shared the key highlights. Vicky was in a critical condition and
Both his eyes had retina damage
His vision was impaired by 80% in one eye. 20% in the other eye (left eye)
They would have to operate both eyes and each eye would require two operations ( One major retina surgery and after ~3-4 weeks a 'minor' finishing surgery )
If we did not get the operations done immediately, he would lose vision in both eyes over a short period of time.
Against my fears of 1lakh eye surgery cost per eye, the counsellor took into account the poor family and gave an estimate of 41k+9k which was further reduced to 31k+8k.
Then I interacted with Mr Hari Gupta, the patient, benevolent administrator at Dr Shroff . He heard me as a good Samaritan helping out a poor person in desperation. He asked me to send the family to him independently which they did after their tests.
Then he talked to me on the phone.  ' We are reducing the main operation charges down to 10,000/- per eye and minor operation to ~5000/- per eye as a special case' was like God sent support to us, as I was mentally committed to help  Vicky thru.
Now – the revised budget was 30000/- for both eyes and approx. 10k for misc expenses, logistics etc. – total Rs.40,000/-. This was further rendered manageable as the hospital would have to operate first on the left eye and then later on the 2nd eye –so the payment requirements were staggered.
The first operation is to be on 29th Jan (rescheduled to 6th Feb)– the hospital specially gave this date to ensure we did not lose time . Of course, no one can guarantee a perfect recovery – that is in God's hands.  However, they are clear that if we do not get the operation, Vicky will lose both the eyes.
Initial treatment from the hospital has been started and Vicky's fever has gone. We expect him to take further tests and then go for his operation on 29th (rescheduled to 6th Feb)
At this stage, we are looking at sponsors to raise the 40k for Vicky's eyes – if required, in two batches of 20 k each across 30+30 day period.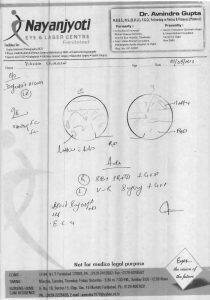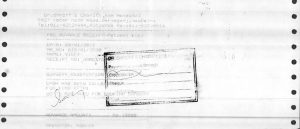 If you are interested in helping Shivani's family, please contact with an indication of support:
EPILOGUE:
Vicky was operated across 6 months. First he had to be treated for his persisting fever – then the operations (4 surgeries) proceeded.  Final costs were a little above Rs.50,000/- ( the post-operative, logistics and misc support to the family were approx. 20,000/-).
Yes-  Vicky's eyesight was saved. He now works as an independent job earner for the family.
For me,  personally, it was an interesting journey as I took on the challenge of executing end-to-end on a complex problem.  The pay off was:
I was able to get Dr Shroff Charitable Eye Hospital empaneled with Silicon Valley Charitable Foundation
With this they are able to get grants and donation from various MNCs located in USA as they clear the due-diligence for a NGO as required by USA authorities
Applied Materials- my company – gave a matching grant for my efforts
And I met a lot of people on this journey who gave voluntarily to make the mission happen
In the end , I have continued as a donor to Dr SCEH and have good friends there. And in doing so,  I have gained that mental strength that if I see a problem then I reach out and resolve it instead of passing it by…
However, I really see this epilogue as the start of a fascinating journey into the world of selfless service…