Erle Stanley Gardner was a prolific American author who pioneered a fascinating genre of crime stories- featuring the adventures of a brilliant, young lawyer – Perry Mason as he solved murder frame-ups and legal traps that his clients got into.
I was introduced to Perry Mason by my brother, Anurag, somewhere towards the end of the 60s.  I was still in the Hardy Boys era – but I was ready to grow up.  His challenge that this may be a little too much for me was enough to start me. And I got hooked right from day 1. I remember my first Perry Mason as 'The case of the howling dog'.
Over the years, other stories from Perry Mason case books followed.  The stories had a predictable pattern – a cast of characters was usually shared in the book intro. Perry Mason would encounter the victim in a neutral setting and the characters would be swiftly molded into the story line. There would be a murder – and Lt. Tragg from homicide would step in and make an arrest of Perry's client as evidence against him/her would be damning.  As the investigation evolves to the court, prosecution led by the district attorney, Hamilton Burger, would be all set to wind up the trial with a conviction of the client.  What would unveil out would be a brilliant courtroom maneuvering by Perry Mason and his faithful secretary, Della Street along with his detective assistant, Paul Drake.  And, inevitably, at the last moment, Perry would be able trap the real killer into a confession or panic flight resulting in proving the innocence of his client.
What's timeless about it is that there's a guy who's trying to hold up a mirror to the world and say there are people who need someone to fight for them. There's always a need for Perry Mason, and at this particular time, someone standing up for people who don't have a voice feels like it might be the perfect thing."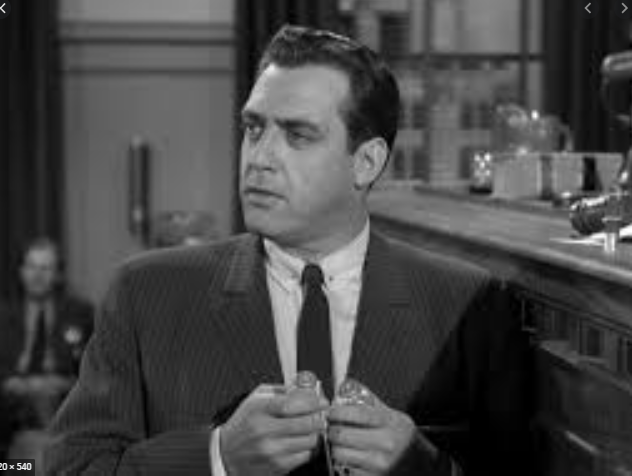 Raymond Burr as Perry Mason in the 50's classic Perry Mason TV series
How has this fiction shaped my life?
Somewhere, destiny has brought me face-to-face with life events where I had a life-dilemma that is best articulated by Shakespeare in Hamlet, Prince of Denmark…
"to suffer in silence the slings and arrows of a merciless fortune
Or to take arms against a sea of troubles
And by opposing to end them."
In my life, I have selected a few legal battles that I have entered with the faith that it would be wrong to accept a wrong, that I had to battle for what I believed was morally right.  The lawyers that I have worked with had a range of colorful personalities.  The real-life experience is a lot different from the short-time span of the story in the novels and the TV series (more on that shortly)!
My first case lasted for 3+ years – I ( the defendant) pursued it diligently and it was won by the simple fact that I did not let go of the case and the plaintiff who had no case but anticipation of quick gain lost interest and the case was cleared in my favor! No brilliant trial lawyer, just patience and perseverance – a very simple – even clerical, lawyer.
My second case (I was the plaintiff) lasted from 2012 to 2016 end….4+ years.  The pattern was familiar. Each hearing was postponed several times as either the judge was busy, either my lawyer or the defendant lawyer was absent – or there was a strike of the lawyers – or simply, our turn would not come in the hearing. There were 18 dates fixed just for final arguments across 14 odd months! And then on one date, the judge announced that he was going for the final argument exclusively for our case- and my lawyer was absent!
I stepped on the plate and informed the judge that I would represent my case and argument on my own! The judge looked at me and asked me to reaffirm. I repeated it and said that I knew the case well enough and ..I was permitted to proceed.  Over the next 2+ hours, the defendant party's lawyer threw a number of googlies and I fielded it – and showed the court how the defendant party had tampered with the documents. As the court looked at the handwriting differences, the crude fraudulent attempts were exposed and as the judge exclaimed "now I understand what this case is all about".  The defendant lawyer fought in a dirty manner and tried to throw a lot of confusing claims. However, she was ill prepared, and I had the conviction of the truth – and the truth shone thru the documents that were filed by the defendant because his forgery and lies were evident once exposed.
I won this case – but I do owe it to my lawyer. He prepared the full case across these 4 years with all records kept just perfectly for me to have handled it at the court level. (And he was nice enough not to make any issue about it).
My third case (I help a family member defend his honor) is still going on. It has now entered its 18th year – and I do not know how it will go. We terminated the first two lawyers as we found them lacking.  Our 3rd lawyer is brilliant, now on the case for last 17+ years – somewhere a cross between the bureaucratic personality of my case 1 and the brilliant Mr. Perry Mason. Let us see how this case will end.
However, I do believe that somewhere I have that conviction of a Perry Mason fan – that things will work out in the end!  Being true and being bull-headed enough not to give-up makes the difference.
Perry Mason has been portrayed in one of the most brilliant manner in the 57-67 golden age TV serial era by Raymond Burr!    I can imagine an entire nation glued to the TV set every Friday evening for its weekly dose of the court-room drama – one that would inevitably end with Perry's successful defense of a hapless client and the cornering of the actual killer. The killer would inevitably breakdown – or just end up saying "you did not know what a monster he (the murder victim) was- I just had to do it".
Victory of the good over evil – whether in Ramayana or in Perry Mason – is one of the most basic, satisfying appeals to the human nature.
(According to published "Perry Mason" lore, Perry lost only one courtroom tiff–"The Case of the Deadly Verdict" in 1963–in 271 episodes).
Perry Mason was first published in serial format in 'The Saturday Evening Post'- some with different titles. 16 appeared in 'Toronto Star Weekly' in a condensed form. All book were first published by William Marrows & Co, New York. Most were published simultaneously in Toronto. Later on several of the stories were adapted for the TV series starring Raymond Burr.
Incidentally, yes – I did end up collecting and viewing the entire Perry Mason series. And I do believe the later video versions can not hold a candle to the Raymond Burr version – even if it was in a simple black and white!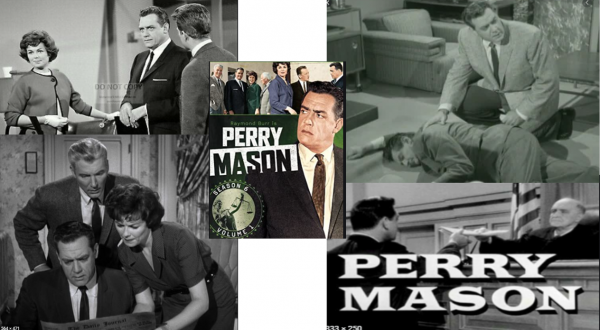 Cast :Raymond Burr as Perry Mason, Barbara Hale as Della Street,  William Hopper as Paul Drake, William Talman as Prosecutor District Attorney Hamilton Burger
Disclaimer: Do note that "Perry Mason" as a fiction character does present a skewed image of criminal attorneys and the way cases were tried in court, leading to lofty expectations with no foundation in reality. The fact is, most criminal trials are tedious, and lawyers and prosecutors rarely go thru an in-depth coverage and analysis as they are generally overworked.  The cases will definitely not finish in 30 minutes or in a handful of hearings! If you are lucky as I was, the lawyers will at least be well-organized and have kept a systematic record.  Ultimately, your conviction in your truth and your analysis will help them carry their case at the court. And do note that the courtroom confessions are more in the movies than in the real life!

My Previous Posts on this reader's journey:
9. Bunter and the missing Magnets
8. The quest for the long-lost JSFs
6. Kabaadi Bazaar- the Sunday Brunch
5. The treasure trove at my door steps!
3. The Search Engine with a heart
2. Discovering Paradise…the Mumbai book journey
 My next Post :. 100 years of Hercules Poirot! A tribute to Agatha Christie
Subscribe below to get alerts on my future posts – and connect to me on my social media links for my posts on life engineering inspirations.