"
"..Do you think there are many people like her?" Asked Jane Heiler".
(Reference to Ms Marple in Agatha Christie's "Tuesday Club Murders").
How apt the quote fits the creator!
My maternal grandfather had an excellent taste of reading and had a collection of books that I used to devour in my annual trips to the maternal home.  It is here I read Victor Hugo's 'Les Misérables' with its classic pathos and sensitive development of its characters. It was here I found in his collection a masterpiece "Fifty Famous Detectives of Fiction" – and it was here I discovered Hercules Poirot and Miss Marple. In fact, 3 of the 50 stories in this classic collection featured Agatha Christie's creations -Poirot, Miss Marple and the mysterious Mr.Quinn.
Needless to say – once discovered, I scanned the libraries and the book markets and read whatever, whenever I got my hands on.
This year we complete 100 years to the first appearance of Hercules Poirot – the Belgian refugee detective Christie created in 'The Mysterious Affair at Styles'. But Christie created several other notable detectives – Miss Janet Marple of  St.Mary Meade  village being another one; Mr.Parker Pyne (Are you happy? If not-consult Mr.Parker Pyne) and the mysterious Mr.Quinn.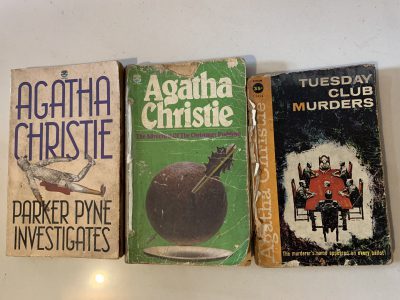 How this fiction shaped me?
The stories developed my perspective on the world, of cause-and-effect and of complexities of relationships. I loved the final showdown so much that I cheated on occasions and read the ending before starting the main novel – a habit I eventually corrected so that I could let the suspense and story build up in me.
Years later, I have used the conviction in all that is good to guide me in my life – and used some of the principles I gleaned from this exposure to the world of crime to uncover a few crazy challenges I faced in my life.
In one of the legal cases I mentioned in my last post, the truth was exposed to the judge In a court of law by the simple expedient of pointing out the tampered documents, handwriting comparison and simple logic. In another real-life situation, there is no court – but the evil of a cheap person has been thoroughly exposed with time as the truth has surfaced and stood by me.
One thing stands common in Christie's fiction – and my life learning. It is best to keep life clean and ethical – evil never succeeds!
I could write a lot more – but I take the liberty to share Vineeth Abraham's brilliant writeup on the Queen of Crime (with his permission, of course) as his reading journey parallels mine!
——as written by Vineeth Abraham with edit notes from yours truly
My first introduction to the works of Agatha Christie came when I was around 10 years old. On a visit to my mother's ancestral home at Irinjalakuda during the summer holidays (also the town where I now reside) I used to rummage happily through the books in my cousin's and uncle's collections. My cousin's collection consisted of several bound volumes of comics and a stack of books by James Hadley Chase, the only author he read. I had already read the comics several times over. Chase was an author I was not into at the time, primarily because I disliked the covers on the Corgi editions that my cousin possessed. My uncle's collection was the one that introduced me to a host of wonderful genre writers. It was here that I met the likes of Mickey Spillane, Erle Stanley Gardner, John Dickson Carr, Edgar Wallace, Leslie Charteris, John Creasey and several others, all crammed into a small four foot by three-foot cupboard in his bedroom. I was making the transition from comics to novels at the time and these volumes were like manna from heaven. I went through most of them like a hot knife through butter. That is when I chanced upon a book by Agatha Christie. It was a Dell edition of her book 'Dead Man's Folly'. The title intrigued me, so I picked it up and started reading. To say that it was a disappointment would be an understatement. I was used to tall, handsome and tough heroes like Simon Templar (The Saint ), Mike Hammer , Inspector Roger West and others of their ilk. The main character in this one was a short, rotund, egg headed little Belgian with waxed moustaches who went by the improbable name of Hercules Poirot. The book meandered on and there were no shootouts or punch-ups at all. What else could you expect from a writer named Agatha? I pictured her as a clone of Bertie Wooster's dreaded Aunt Agatha in the Wodehouse novels, the dried-up shrew who ate ground glass for breakfast and could stop a charging wild elephant dead in its tracks with a glare through her lorgnette. I quit halfway through the book, thoroughly bored, and returned thankfully to Mike Hammer dealing out justice with his trusty .45. To tell the truth, even when I finally reread and completed the book years later, I felt it was one of the weakest written by Christie.
A few years later when I was around 14 and had exhausted most of the books in the school library, I again picked up a Christie novel. This one was called 'After the Funeral' (American Title 'Funerals are Fatal' ). This time around I found that the plot drew me in though there was still no action. Christie was the master of the cozy mystery where characters with stiff upper lips hardly showed any emotion and murders and suchlike were considered par for the course and nothing to make a fuss about. You would have a situation in which the Butler would announce to the lady of the house that tea would be served in the garden instead of the Library because his Lordship had been stabbed and his body was now draped across the tea table. Her Ladyship would not bat an eyelid but would tell Travers (butlers are always called Travers or Smithers or Baxter or Murgatroyd or Jeeves as the case may be, but never Smith , Jones or Brown ) something on the lines of ' I wish he'd been more considerate and not got stabbed on the tea table , just before teatime. Call the police after 10 minutes so that the guests can have their tea in peace and do ensure that his Lordship's blood had not splashed on the priceless leather-bound set of Walter Scott's books.' You get the idea I am sure. For a change I found the book refreshing after all the blood and gore and severed limbs that were my usual diet. Even the pompous little Poirot was a welcome change after the bloodthirsty Mike Hammer and Parker and other he men heroes who were my staple diet. The book was absorbing, and I had a tough time not turning to the last few pages to discover who the murderer was. The objective of the mystery writers of the golden age of mystery writing (from the nineteen thirties to the nineteen fifties) was to deceive the reader while being fair and providing all clues. The success of the writer was in concocting a plot where the least likely character turns out to be the murderer and Christie had this ability in spades. I certainly could not figure out who the murderer in " After the Funeral' was and the revelation came as a surprise. She had provided all the clues, but I had not guessed who the murderer was. The final denouement has the little Belgian calling all the main characters for a discussion (as was the norm in most golden age mysteries) to explain the circumstances of the case before unmasking the murderer with a theatrical flourish. I loved the book and even began to admire the little detective. Being able to shoot four people in a second or batter five toughs without breaking a sweat was all very well but you have to admire a person who uses his 'little grey cells'. Brains and not brawn were what Poirot used and I began to identify with him because I was short on brawn myself though modesty forbids my drawing a comparison with his brains. (editor's note…love the Poirot quote below).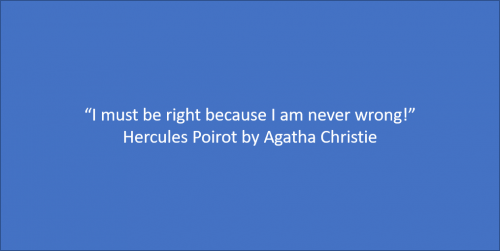 I now started on a quest to read all the books by Christie. These were very easy to find as my school library had several her books as did the British Council Library and the Trivandrum Public Library. Within a year I had read most of her prodigious output and enjoyed everyone. I discovered and fell in love with her other major series detective Miss Jane Marple, the frail little spinster from the village of St. Mary's Mead with the gentle manner and a brain as sharp as an open razor blade. Miss Marple would even give Poirot a run for his money. Her knowledge of human nature was second to none, all gleaned from various incidents in the quaint village she resided in. Reading Christie one would think that the number of murders that occur in quaint English villages and country houses would be about ten time those that occur in the underworld in America, France and Germany combined. Both Poirot and Miss Marple have featured in fabulous television adaptations. ITV produced the wonderful series 'Poirot' starring the magnificent David Sachet as the definitive Hercules Poirot, Hugh Fraser as his Watson and friend Capt. Hastings, Philip Jackson as the hapless Inspector Jaap and Pauline Moran as his secretary Miss Lemon. It would be fair to say that all these actors will forever be associated with these characters even though they have played several other roles in their long careers. The series lasted from 1989 to 2013 and is a must see. Subsequent adaptations have all suffered in comparison to this series and though several great actors including Peter Ustinov and John Malkovich have played Poirot on TV and in films, none of them have matched up to David Sachet. The BBC broadcast a series called 'Miss Marple' from 1984 to 1992 based on the Miss Marple novels with Joan Hickson absolutely living the character of Miss Marple just as you would visualize her while reading the books. Another series called 'Agatha Christie's Marple' was broadcast by Granada from 2004 to 2014 with first Geraldine McEwan and then Julia McKenzie playing Miss Marple. Miss Marple was also portrayed on TV and in films by such thespians as Helen Hayes, Margaret Rutherford and Angela Lansbury but, for me, the definite portrayal would always be Joan Hickson's, and I recommend that series above all others.
(David Suchet, as Hercules Poirot, lived the role for 25 years across 13 serials. The series was watched by an estimated 700+ million people across 100 countries…editor)!
Christie was a solid and workmanlike writer though not a brilliant stylist and her characters were often pasteboard. Her forte was plotting, and, in my opinion, she remains unsurpassed for the sheer diversity and magnificence of her plotting. 'The Murder of Roger Ackroyd', 'The Murder on the Orient Express ', 'Death on the Nile ', ' A Murder is Announced ' and ' Ten Little Niggers' were just some of her books with plot elements that had never been done before. Over a long career that encompassed 56 years and 80 books, she never failed to entertain, enthrall and mystify her legions of fans. Apart from the Poirot and Marple books she also wrote a series about Tommy and Tuppence Beresford which was also adapted for television as 'Partners in Crime'. She wrote several standalone mysteries and her early work was mostly light hearted thrillers typical of the books being written in the nineteen twenties. She was a master of the short story format and wrote several collections featuring Poirot and Marple among others, plus a few terrific stories with supernatural elements in two of my favorite books 'The Hound of Death' and 'The Mysterious Mr. Quin'. Her play 'The Mousetrap' is the longest running play ever and was performed on stage at the West End from 1952- 2020, an unbroken run of 68 years. 'Witness for the Prosecution 'was another Christie play that was hugely successful and was later filmed in 1957 with Tyrone Power, Marlene Dietrich and Charles Laughton. It was also the basis for a Television Mini Series in 2016. It received the Mystery Writers of America's 'Edgar' award for Best Play in 1954. Christie wrote romances as Mary Westmacott though these were never as successful as her detective novels. She was bestowed the honor of DBE (Dame Commander of the Order of the British Empire) in 1971 and the Guinness Book of Records credits her as the world's bestselling writer with over two billion copies of her books sold.
The Golden Age threw up several brilliant women mystery writers including the four dubbed the Queens of Crime – Agatha Christie, Margery Allingham, Dorothy Sayers and Ngaio Marsh. There were several other terrific women writers during this period including Josephine Tey, Gladys Mitchell, Christianna Brand , Patricia Wentworth and Anthony Gilbert ( yes, she's a woman). During the latter half of the twentieth century a new crop of fine women mystery writers took center stage including Ruth Rendell , P.D. James , Elizabeth George and , my personal favourite , Joyce Porter. However, whenever the term Queens of Crime crops up the first name that will spring to mind, and rightly so, is Agatha Christie. Christie passed away in 1976 but her legacy lives on. Her books are never out of print and continue to delight future generations.
The Queen is dead, long live the Queen.
My Previous Posts on this reader's journey:
10. I rest my case, Your Honor… (Perry Mason)
9. Bunter and the missing Magnets
8. The quest for the long-lost JSFs
6. Kabaadi Bazaar- the Sunday Brunch
5. The treasure trove at my door steps!
3. The Search Engine with a heart
2. Discovering Paradise…the Mumbai book journey
My next Post :. To boldly go..,where no man has gone before!
Subscribe below to get alerts on my future posts – and connect to me on my social media links for my posts on life engineering inspirations.