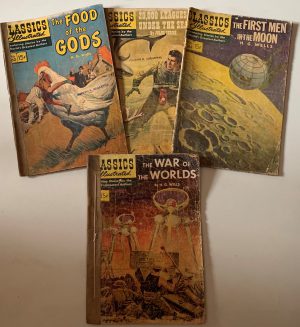 The first science-fiction that I encountered were in Classics Comics Illustrated – "The War of the World", "The Time Machine", ….in beautifully hand-drawn story versions of the classics that whetted my appetite. The works of HG Wells and Jules Verne created a world of adventure where science and humanity worked together to address fascinating challenges! Then, there were Jetsons (a Hanna-Barbara Comic) who whetted my appetite of a future that was exciting – and "Lost in Space" and "Star Trek" Comics brought Science Fiction in my world. June & School Friend comics had their own collection of science fiction stories (Vanessa from Venus…and others)!
EC Eliott's "Kemlo and the Spacemen" was one of my first children's science-fiction science fiction. By end of 60s, I had got my hands on a few Asimovs. I remember reading a collection of SF short stories at British Council Library in the 80s. A story that remains in my mind is that of an innovator in a remote space location who solves the problem of getting fresh milk for his culinary needs by making a mechanical cow! Recently, the movie 'The Martian' captures the same innovation streak on a similar problem when the protagonist produces food in his lab on Mars!
However, the single most defining shift towards science-fiction – and science- in my reading adventures was a TV Serial that State-led Doordarshan TV flashed every week in the 70s – the Star-Trek!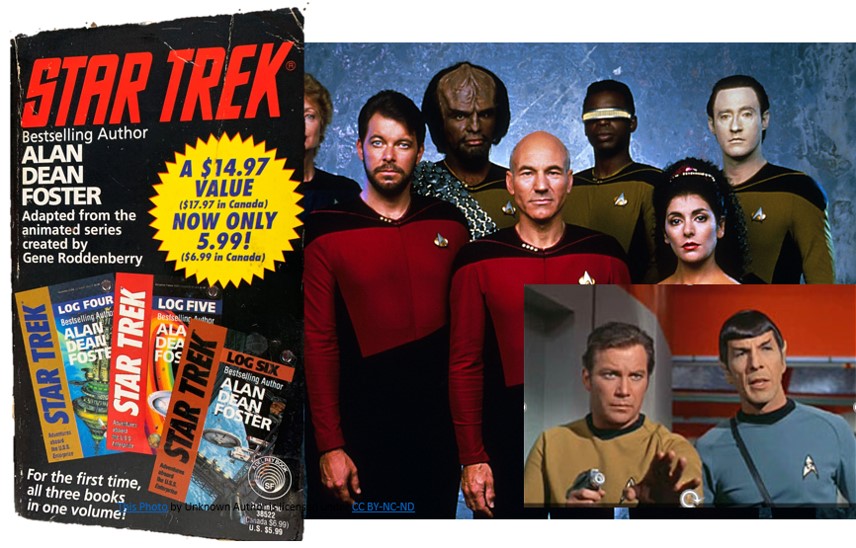 I remember looking forward to the series every week – to boldly go where no man had gone before…Gene Roddenberry's stories were actually beautiful allegories – they blended a blended a fundamental moral message with story lines that explored different science fiction genres – from alien invaders ( Borg, Romulans, Klingons…)…to time travel…to parallel worlds …
My friend, Vivek Abraham, has written that the pen is mightier than the lens…that the printed page is better than the digital media. I share a different perspective. Each has its place in stimulating the human brain. Basically, each is a medium of communication -and the creator can use this media as effectively as he deems fit. You can see it in phenomenon like the 'YouTube'. Creating a good video is a skill acquired thru practice and eye for detail. The same holds true for the written word.
How Science Fiction Shaped Me!
I think that the vivid imagery of classics like Star Wars and so many SF movies stimulated the imagination in an unparalleled manner! The allegories in Star Trek brought home the need to appreciate pain as a means to a cure; to appreciate the power of diversity – of races and of gender; to understand the difference that values and leadership styles can make in the results!
Star Trek was a classic and William Shatner as Captain Kirk and Leonard Nimoy as Mr. Spock captured the imagination of this youngster – and made me a life-long trekkie… So much so that when I was at Hewlett-Packard, I created several product launches in the Science Fiction thematic treatments.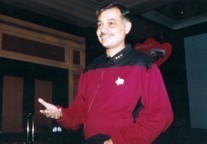 HP DeskJet 970C launch in 1997- I executed it in Captain Piccard's uniform in an exciting "the Next Frontier" theme launch!
HP LaserJet 4 & 4L were launched as gifts from outer-space with the 4L talking to the audience after a glitzy smoke-and-light unveiling. HP Desk Jet was launched leveraging the battle sequence of Star Trek- the last frontier ( HP DeskJet – the Next Frontier) – and I dressed as Captain Piccard when the HP DeskJet 970 was launched in a battle with the Romulans, Klingons and Borg ( the Epson, Canon and LexMark )! The audience was issued with 3D glasses and could watch the battle play out in 3D with the crew of HP DeskJet outexecuting its enemies with its superior capability and teamwork!
The fact is that we all live our own Star Trek – to explore new worlds, to live our own adventures, to boldly go -and do – what no man has ever done before!
My Previous Posts on this reader's journey:
11. 100 years of Hercules Poirot- A tribute to Agatha Christie
10. I rest my case, Your Honor… (Perry Mason)
9. Bunter and the missing Magnets
8. The quest for the long-lost JSFs
6. Kabaadi Bazaar- the Sunday Brunch
5. The treasure trove at my door steps!
3. The Search Engine with a heart
2. Discovering Paradise…the Mumbai book journey
My next Post : On strengthening visualization & memory – and how my reading changed me!
Subscribe below to get alerts on my future posts – and connect to me on my social media links for my posts on life engineering inspirations.